32 Tasks Your Nonprofit Can Automate Using Giveffect
It's no secret that nonprofits perform a number of tasks on the administrative side. Putting together event fundraisers, pulling reports for your board to make decisions with, wealth screening, and email marketing campaigns are just a few of the hundreds of tasks that a typical nonprofit has to get done. But more often than not, a nonprofit doesn't have a way to ensure that the tasks they are performing, as well as the data that go into and come out of them, are integrated and aligned with each other. When software systems not being automated, information can get misconstrued, and even lost in the shuffle. When a nonprofit organization like yours has to pay more attention to entering data manually into several different systems and is not focused on fulfilling its true mission, the efficiency and effectiveness of the organization become top concerns.
But this is nothing new. Within most nonprofit organizations, you're likely to find a series of different data platforms that may do one or a few things very well, but are not connected or integrated and that create data silos within the organization. But at Giveffect, we believe in an integrated software system that will continuously works towards bringing all of the parts of an organization together. What Giveffect's all-in-one, integrated software system offers is a way for you to reduce or eliminate manual data entry, as well as connect the systems you are using, and the data contained within them. Additionally, all of your data is in one place, and you get a 360-degree view of all constituents, volunteers, donors, members, and sponsors.
The result is that whatever happens on the front end, from creating an crowd funding campaign page to a volunteer filling out an official volunteer application, is automated on the back end and does not require manual work from the user. This is known at Giveffect as Smart Automation, our signature software that connects, integrates and automates all parts of our software system so that you can drastically reduce manual data entry and cut back on administrative work. And the numbers speak for themselves. In a survey we conducted, clients using Giveffect saw a 36% increase in volunteer engagement. Those same clients reported that Smart Automation saved them 30 hours per month in daily administrative tasks and paperwork.
Below are 32 of the tasks that nonprofits do on a regular basis that can are both integrated and automated when you implement Giveffect and Smart Automation:
Automated Donations
With Giveffect, both online and offline donations are made simpler to maintain. Donations made by individuals and organizations are easier to track in the back end. Recurring payments can be scheduled and recurring rules can be created. Annual statements can be searched for and found in seconds. And tax receipts are issues more easily, with little to no headache. And all donations are automatically accounted for due to Smart Automation. A few tasks that become automated because of Giveffect include:
Connect visitors to a donation database
Issuing Tax Receipts
Automated Email Marketing
An automated email marketing system means that you will not have to import or export email addresses between different software systems. Additionally, there is the WYSIWYG (what you see is what you get) software editing system that allows even those who do not feel they are tech savvy enough to drag and drop images and edit and update their entire email marketing newsletter, making for an email marketing experience that is easy, yet efficient, and creates stunning results. Here are some of the email marketing tasks automated by Giveffect:
Sending out emails and Direct mail
Confirming event emails
Automated Event Management
Managing your events has become a snap with Giveffect. Using the Event Buddy tool, you can use your mobile device to check people in and out of ticketed events that they attend to support your organization. You can more easily create various kinds of fundraising campaign event pages (galas, BBQs, festivals, challenge events, music events, etc.) You can even set up the Text-to-Bid tool for auctions so that people who want to participate but cannot attend can still bid.The Events Management tasks automated by Giveffect are as follows:
Checking in event volunteers through a mobile app
Checking in event attendees through a mobile app
Creating and embedding waivers for your donation forms
Print event tickets
 
Automated Fundraising
Not only can you create several types of fundraising campaigns, you can customize them and bring them to life more easily. You can also ensure that events where attendees and donors will attend will be checked in automatically using a mobile device through Event Buddy. Ticket purchases, crowd funding rewards and donation buttons are automated. Several fundraising tasks are automated through Giveffect, such as the following:
Creating Peer-to-Peer Fundraising campaign pages
Creating RSVP Management campaign pages
Creating Event Fundraising campaign pages
Creating Simple Donation campaign pages
Creating Team Fundraising campaign pages
Creating Corporate Fundraising campaign pages
Creating Crowd funding Fundraising campaign pages
Creating Personal Fundraising campaign pages
Creating Auction Fundraising campaign pages
Creating Custom Branded Fundraising campaign pages
Creating Ticketed event campaign pages
Automated Websites & Web Hosting
Again, with our WYSIWYG editor, website creation and editing becomes that much easier and timely. You don't need to bring in an actual web editor to make your most richest, most convincing nonprofit websites with Giveffect. Our Web-in-a-Box solution is the easiest way for a nonprofit to build a website. Now, It's easy for any staff member at your organization to create engaging nonprofit websites. Some of the tasks under web hosting that are automated by Giveffect include:
Building a website using drag and drop elements
Build a Storefront
Build blogs and distribute content
Analyze traffic in Real-Time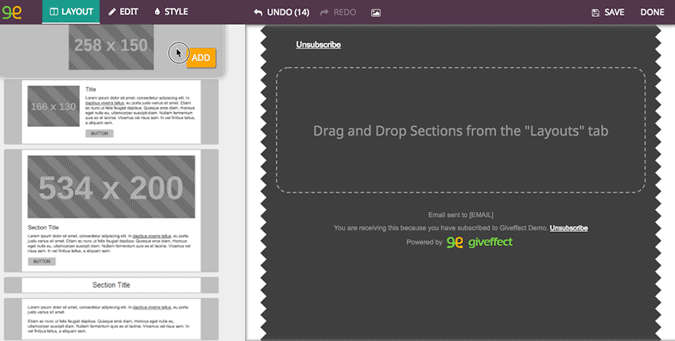 Automated Reporting
Creating reports & queries of many kinds become a cinch in Giveffect. The reporting & querying features allow you to quickly search through hundreds of thousands of records in mere seconds. You can create reports based on donations, volunteering, lifetime giving, fundraising, and more. You can easily create customized reports, or you can used canned reports that are already in the system.
Creating reports about volunteer engagement
Creating reports about in-kind donations
Creating reports about most active donors
Creating reports about most active volunteers
Creating reports about campaigns
Creating reports about soft credits
Automated Wealth Screening
The Giveffect Wealth Screening system allows you to more easily search prospects, identify and track major gift prospects, and create comprehensive reports. We take the guesswork out of finding the best prospects for major donors. The opportunities tab in the back end will allow you to type in a contact name or add a new contact to the database. And that's only the start. Here are the wealth screening tools that are automated by Giveffect:
Screening for Wealth
Screening for Donor opportunities
Organizing constituents based on actions or characteristics
And when it comes to streamlining your nonprofit, this is just a fraction of what Giveffect allows you to do without needing to ever even leave the software's platform. Giveffect's 10-system software also has website and web hosting and membership management tasks that can be integrated and automated for you. The administrative work within your disconnected systems that would have taken you days can now take only minutes in the all-in-one system we offer. Smart Automation is what allows everything happening on your front end to go into your back end without you, the user, having to put in hours worth of work. Having a system that is built around automation and integration just makes life easier.
At Giveffect, our goal is to help you eliminate the need for using separate, disconnected software systems that stifle your organizational growth and hinder your ability to focus on your organizational mission. We do this with Smart Automation by offering a deeply integrated, automated, all-in-one system that takes the administrative burden off of your shoulders.
We'd love to hear from you! Schedule a demo with our team today and see what a difference we can make for you.
Want to learn more about how the Giveffect all-in-one software system can help your administrative and data entry efforts? Visit us online at www.giveffect.com.