What Smart Automation can do for your Arts & Culture Organization
With as many nonprofits that exist in the United States, they serve a wide range of purposes. With nonprofit arts & culture organizations, we find that they serve the purpose of teaching children about life through the use of theatre. Some organizations use the art of dance, movement and choreography to serve their community. Some may focus more on serving as a museum for fine art collections. Regardless of what these organizations specialize in, they serve as a vital part of a surrounding community because they provide the arts to communities that otherwise would not have exposure to them. And these arts organizations handle wide-ranging tasks. Like many nonprofit organizations, they have a lot on their plate and have to do as best they can with what they have. This is why arts nonprofit automation of duties and tasks becomes so important to these organizations.
Because arts & culture organizations have so many projects and duties they have to handle on a daily basis (hosting informational forums, holding annual galas, tracking visitors on a daily, weekly, monthly and yearly basis, creating fundraising events, curating art exhibitions, etc.), they use several different software platforms to get work done. To create an email marketing campaign, they may use Mailchimp or Constant Contact. To keep track of volunteers, they may use Volunteer Hub. To create fundraising events, they may use a system like Classy or Convio. But the main issue that arises is that even with all of these powerful software tools that are built to specialize in volunteer management, email marketing and fundraising campaigns, the users at the arts & culture campaign have to use them separately. The systems are not connected or integrated in any way and do not speak to each other.
This is why Giveffect is in business. We believe in bringing all of your nonprofit software needs under one umbrella, integrating them, and ensuring that they all speak to each other on a regular basis. What's more, we believe in automating the administrative duties and manual data entry that seems to get so many nonprofit organizations off track and away from their mission and vision. How do we do this? Through something we refer to as Smart Automation, which is our signature tool to help nonprofit organizations streamline their operations and get a complete, 360-degree view of what is happening behind the scenes. In the case of arts & culture organizations, Giveffect is able to automate several duties that, with any other system, would require multiple pieces of software with multiple logins. Let's take a closer look at how the all-in-one software system of Giveffect automates and streamlines some of the most important efforts in arts & culture organizations.
Smart Automation simplifies the volunteer application process
Some arts & culture organizations actually do get help from volunteers. Regardless of size, it is always a good idea to have your volunteer base be as strong as possible. This is no problem for Giveffect. The volunteer management platform features several tools to get an arts organization's volunteers on the right track. Chief among them, a focused, seamless volunteer donation flow.
In the back end, the volunteer application tab allows a team to manage what questions they want to ask of potential volunteers when they are applying. This process also allows for an emergency contact to be informed of any emergencies that arise. And additional forms and waivers are included so that potential volunteers are well aware of what is expected of them.
Smart Automation makes turning major gift prospects into actual donors easier
Like many types of nonprofits, arts & culture organizations depend on the generosity of major donors who have the means to donate year after year. From museums to cultural centers, these arts organizations are run off of donations from the public, but still rely heavily on donations from corporate sponsorships, as well as direct and indirect corporate contributions.
For this reason, it is important for any arts-centered organization to have a plan when it comes to wealth screening and major giving. Thankfully, Giveffect's wealth screening tools integrate with your arts organizations workflow with no problem. Using our wealth screening system, an arts organization has access to DonorSearch integration, get a view of a donor's donation history and affiliations, and get reports on its many different donors to make better decisions on how to target potential donors.
Smart Automation creates a seamless event management system
Arts & culture organizations come in many shapes, sizes and types. Museums, theatre companies, and preservations societies are just a few examples. And while many organizations may rely on major donors, other arts organizations will focus more on creating fundraising events to stay afloat and even exceed their needs. Enter Giveffect's ticketed campaigns and event management tool.
Within this system, users can easily create event pages for a ticketed event such as a gala or a wine stroll. They can control donation amounts and levels that they receive as part of their event online. On the backend, users can create tax receipts in a matter of minutes. They can create custom URL and Thank You pages. They can even organize their constituents online through reconciliation, or data mapping. The Giveffect ticketing technology even goes as far as the free Event Buddy mobile app, which can turn a mobile device instantly into a check in kiosk.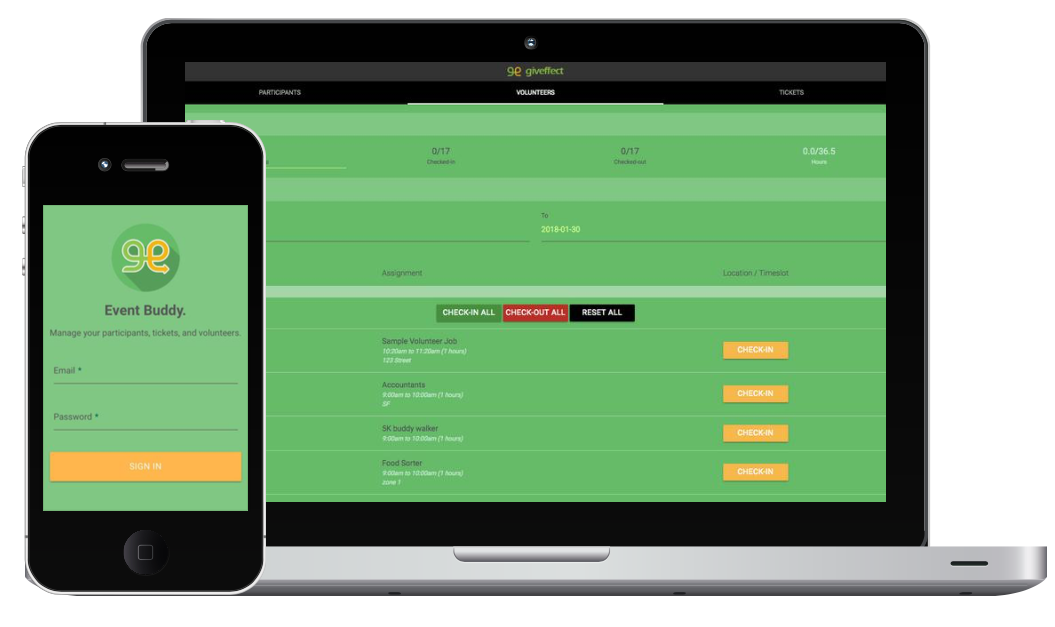 As a nonprofit performing arts organization, you likely have a plan in place to create series of ticketed and auction fundraisers, email marketing campaigns, and you may even be looking to make drastic changes and updates to your website. If you are working in several different software solutions with different logins and capabilities, you have to ask yourself and your decision makers how convenient it will be to continue on with this method, or if looking into a newer, more robust, more focused, integrated and automated software is the way to go.
This is where our signature Smart Automation software comes in. Smart Automation is the real power behind the Giveffect software system, and it is what helps your nonprofit performing arts organization reach its full potential on a technological level. As a Giveffect client, you have the ability to run multiple fundraising and event campaigns, volunteer management efforts, and even wealth screening and move management, all from one backend of the system that you never have to leave or log out of. And what is most brilliant about Smart Automation is that it allows for everything that happens in the front end of your system, from fundraising campaigns to the volunteer application process, is automatically entered and accounted for in the back end. This seriously reduces the time that your nonprofit has to dedicate to manual data entry and long, drawn out administrative work.
At Giveffect, we understand that your arts & culture organization has a great many tasks to handle: engaging your surrounding community, raising funds and exceeding fundraising goals, and prospecting major donors through wealth screening, among other things. Arts nonprofit automation is as important to us as it is to you. And we are here to make sure that you have exposure to software that will help you to meet all of those needs and then some.
To learn more about how Giveffect simplifies healthcare nonprofit automation, let's schedule a demo with your team today.