Automate your Development Department duties with Giveffect
A nonprofit organizations' development department serves many important roles within said organization. Regardless of whether it is a small clothing bank that has one person serving as the development director and wearing many hats, or if it is a large scale arts organization with a development director and several development officers working under them, the development department needs to be running on all cylinders at all times to make sure the fundraising, donation and volunteer board goals are all being met and exceeded. The bottom line is that when the fiscal year if completed and the fundraising and donation goals are being reviewed, it is the development department that will be looked to for answers as to why goals have been met, or not.
The responsibilities and duties of a nonprofit development department vary from one organization to another. However, there are very basic duties or this department that look the same across organization. These duties fall into the following categories:
Fundraising – A development department is responsible for generating donations, selling sponsorships and obtaining grants from various sources. The development department can also do snail mail and email appeals and hold telethons, silent auctions, charity balls, golf tournaments and athletic challenge events such as 5K or 10K runs to raise funds.
Communications – A development office and the officers are responsible for advertising, public relations, and promotions that go beyond fundraising requests. The development office keeps the goals and successes of the organization in the news to solicit support from the public.
Board development – The development department tracks the needs of the organization and helps to identify, groom, train and manage high-level volunteers who can lend their name to the organization, help it build connections and assist in major fundraising duties.
Donor development – A nonprofit development department is responsible for creating and managing a database of past, current and potential donors. The department also creates a mailing list and tags people as potential donors on the list based on a variety of traits, including past giving habits and community organization affiliation.
So, with all of this responsibility, one would expect that the development department has to use several different software systems to meet all if its goals. However, this is not actually the case. By investing in an all-in-one software system comprised of several different systems that are connected, integrated, automated and that speak to each other regularly, the development department at a nonprofit is able to streamline all of the duties within its department. It can create communication material and content that keeps the efforts of the organization as a whole in the public eye. It can create a volunteer application process that is simplified and easy to move through. It can use internal tools to track the proper people who will serve as active, involved donors and supporters. And it can bring fundraising campaign websites to life. And it can be done without ever leaving the one platform where all of these software systems live.
Let's look at some of the systems found within Giveffect that a development department can use to streamline and automate its most pressing duties within a nonprofit organization.
Fundraising & Events System
Giveffect helps a development department with all things fundraising. This being one of the development department's biggest responsibilities, Giveffect includes all of the necessary fundraising tools into one system. For example, a development director or a development officer may be tasked with coming up with a new fundraising campaign. Giveffect's all-in-one system allows for the simplified creation of a fundraising campaign event page that nonprofit supporters can visit to donate to, such as the one highlighted below that was created by our client Wine to Water for their TAMU Chapter Filter Build. And there are a number of different types of fundraising campaigns that can be created through Giveffect, from peer-to-peer fundraising campaigns to auction fundraising campaigns. Additionally, the development department can use the free mobile app companion Event Buddy, which instantly turns a mobile device into a check in and checkout kiosk for event attendees. The best part of all of this is that the information that is captured on these event pages and through Event Buddy is automatically updated in the backend of the Giveffect system through our signature software tool known as Smart Automation. It is the tools we have created to help reduce manual data entry and the time spent on time consuming administrative work.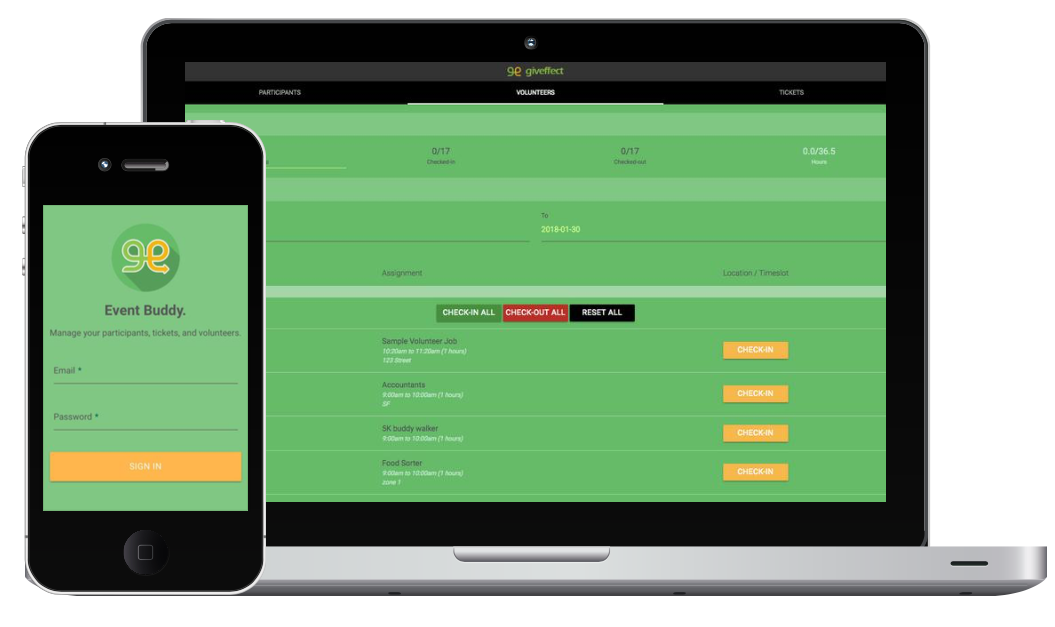 Email Marketing & Direct Mail System
Since the development department is tasked with creating communication that will shed light on the fundraising goals of the entire organization to media, it needs access to a tool email marketing and direct mail tools of several kinds. Giveffect's system allows users within a development department to build email campaigns with a fully integrated email marketing system that is connected to our other nine systems and is powered by Smart Automation. Giveffect's system allows users the opportunity to use the drag-and-drop email template builder, which includes an HTML web editor, the mobile-friendly cross-browser and compatible generated emails, seamless mail list segmentation of your database, analytics on open rate, bounce rate, click rate, unsubscribe stats and URL tracking, and a full history of all interactions logged for each database contact. And if the development department wants to do a direct regular mail appeal, direct mail can be sent through the Giveffect system. The system even allows users to print and mail customizable postcards directly to constituents. Below, we have an example of how instead of having to go through several steps to ensure that an unsubscribe action has been taken, Giveffect integrates an email campaign's activity into each donor's record so that your nonprofit can have access to all of Giveffect's email marketing data. Via Smart Automation, users can click the unsubscribe button within the email that was sent on their front end and their profile within your CRM will be automatically updated:
Volunteer Management System
When a development department is looking to solicit major volunteers who can help pull in major dollars, Giveffect can help there, too. Giveffect makes the volunteer application process as simple as possible by asking the right questions about past volunteer experience, interests, emergency contacts and more. And all of this information is automatically updated in the back end of Giveffect because of that all-important Smart Automation tool so that there is no need to manually enter data over and over again. Beyond that, Giveffect makes it easier to create volunteer jobs, volunteer assignments and volunteer shifts in the back end of the software. However, in this instance, Giveffect is an even greater tool, and here's why: In targeting volunteers to be part of your board, you want to the most experienced, active and well-connected people possible who can help to get even more of the right people excited about your cause, and therefore, donate money. You can use the volunteer management system to gain those experienced volunteers, and later on, the wealth screening & major gifts system, which we will discuss next, helps you turn those targeted volunteers into donors. This is because both of these systems are connected to and integrated with each other, just like they are to all of the other parts of our system. So the flow of the volunteer application that is seen below flows directly into the back end so that the user does not have to, due to Smart Automation.




Wealth Screening & Major Gifts System
Like all of Giveffect's systems, the wealth screening & major gifts system gives the development department a 360-degree view of what needs to be seen. In this case, it's a donor or constituents' giving history. The users within the development department are better able to identify and track their major gift prospects within the same system in which it can create a volunteer jobs, create and distribute email newsletters and physical postcards, and create the right fundraising event. Not only does Giveffect make it so much easier to create and manage a database of past, current and future donors that it would like to target, the wealth screening & major gifts system also has rich, comprehensive reports attached to it that are easy to pull, email and distribute amongst top leadership so that decisions can be made and new goals can be set. This system is able to generate these reports based on wealth and philanthropic giving, income, real estate, relationships with other nonprofits, publicly held companies and stock transactions.
What's most impressive about what a development department can do when it invests in Giveffect? It can replace any volunteer management, email marketing, wealth and major gifts, and fundraising & events management system that it is already using because of Smart Automation, including the membership management system, the email marketing and direct mail system, the fundraising and events system, and more. Smart Automation makes it so that the need to focus on administrative work and the time spent on manual data entry are critically reduced so that the development department can help the organization focus on more high level duties.
Is your development department looking for a more convenient way to perform its duties on a regular basis? We can help! Schedule a demo with Giveffet today.
Want to learn more about how Giveffect can help your organization's development department in its efforts? Schedule a demo with us today by visiting us online at giveffect.com.