What Smart Automation Can Do For Your Healthcare Organization
Nonprofit healthcare organizations play a vital role in providing accessible and affordable medical services to communities across the globe. However, the global presence these organizations have poses the significant challenge in managing sensitive data of their constituents in a scalable way. The software organizations utilize should play a role in reducing the burden of manual data entry, but nonprofits have a unique set of needs that usually cause organizations to adopt between 3 and 6 different solutions to manage their needs. Healthcare nonprofit automation is crucial to the future of these organizations and the development of the software tools they need.

Here at Giveffect however, we believe in an integrated software experience that brings your healthcare organization together, rather than enforcing organizational silos that our industry still adopts to this day.  Through the continuous synchronization data from the various sources of your nonprofit, Giveffect empowers your team to reduce or even eliminate your manual data entry processes. Below are five ways Smart Automation can further your organization's mission and help you continually invest in healthcare nonprofit automation.

Smart Automation Streamlines Your Financial Reconciliation Efforts
Indeed, healthcare organizations have a significant burden when it comes to managing their constituent data
. This introduces a significant headwind for healthcare nonprofits when fundraising via digital platforms if they haven't made an effort to automate their financial reconciliation processes. At Giveffect, we automate the entire process of reconciliation, whether it's a donor-specific code or an appeal or fund code for a fundraising campaign. Transactions are intelligently earmarked with your team's GL codes and can be integrated into your accounting software with a few clicks.
In any given week, how long does your finance team spend reconciling batch transactions?
This problem will further compound the longer your team waits to address it, especially in terms of the accuracy of your appeal and fund reports. Your team should spend its time furthering its mission and engaging with the community, and less time with manual fund accounting data entry or constantly importing and exporting spreadsheets. Your team can invest in healthcare nonprofit automation by streamlining the financial reconcilation process.
Smart Automation Simplifies Custom Reporting & Advanced Analytics
If your team utilizes separate software for fund reconciliation, fundraising, and donor management, then your finance team isn't the only department that will feel the burden of unnecessary data entry. With an increased sensitivity to managing donor data,
how much time does your database admin spend on processes your software was supposed to be doing
? With a fragmented software stack, even the slightest of customizations could add hours of tedious database labor, which takes away from the time your database team could use to build key insights to move your organization forward.
With a full 360° view, your team is empowered to build custom queries for further segmentation or pull advanced reporting within mere minutes for even the most complex queries healthcare organizations employ. You can also drill down into a contact's profile and see exactly how each constituent interacts with your organization, be it email campaigns, volunteer jobs, or fundraising campaigns. Smart Automation brings your donor data to life and unlocks the full potential of your organization's development.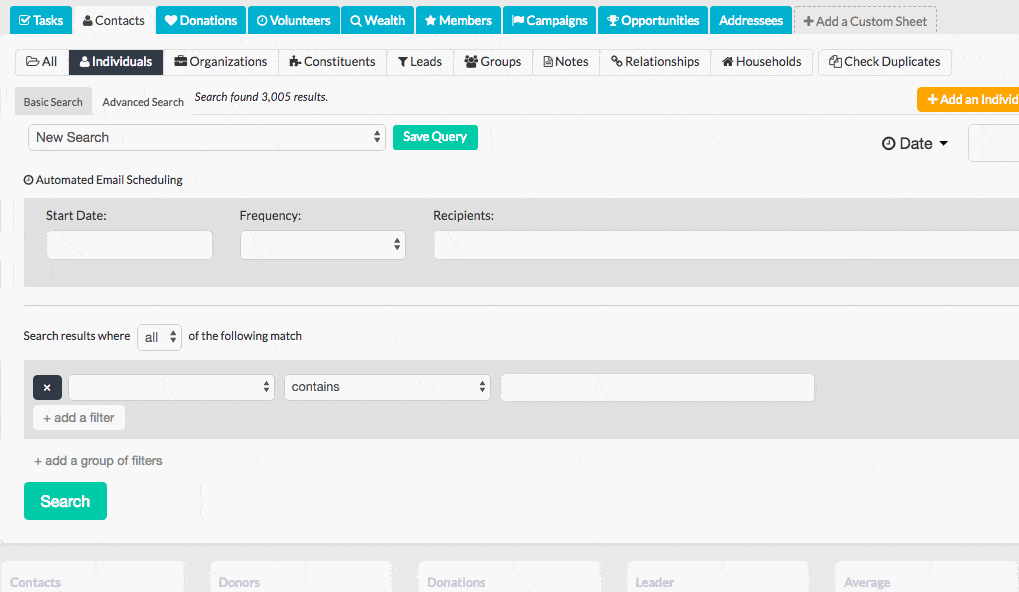 Smart Automation Adds Efficiency To Your Moves Management Processes
Let's face it, healthcare foundations depend heavily on major giving to further their efforts and ensure their organization can continue to provide accessible medical services to their constituents. Modern-day fundraisers of health-related or human service nonprofits have a unique set of technology needs, which can range from managing patient census data to capital campaigns. A disconnected software experience only compounds the obstacles they face and can significantly stifle their ability to reach their fundraising goals. On the flip side, healthcare nonprofit automation simplifies the entire fundraising workflow.
Wealth screening is yet another feature
that the Giveffect backend seamlessly integrates into your nonprofit workflow. With just a few clicks, public data aggregated into key wealth insights are instantly added into a donor's record, providing yet another touch point for your team to engage your donors. What's more, is that your fundraisers can also kick off the moves management processes from the same workflow. From negotiation to stewardship, donors within your database can be funneled through the moves management pipeline minus the manual data entry.
Smart Automation Digitizes Your Email & Direct Mail Efforts
Healthcare and human service organizations utilize email & direct mail marketing as another way to engage donors and keep them abreast with their efforts. If your email marketing process is comprised of importing and exporting spreadsheets between your database, your team will quickly begin to be bogged down in tedious data entry. These processes can also be significantly more error-prone than an automated workflow within one system. Wouldn't also be nice to ditch the direct mail marketing agency and manage everything in-house?
Enter Giveffect. Our robust email marketing system aggregates all of your constituent contact info into one view and provides a WYSIWYG or HTML editor to design an email marketing campaign targeted to those who engage with your organization the most. Also, remember those group codes you specified earlier in your fundraising campaigns? Those are fully accessible from the email campaign workflow, eliminating the need to go on the hunt for specific contacts from that extremely successful campaign you had just a few weeks ago.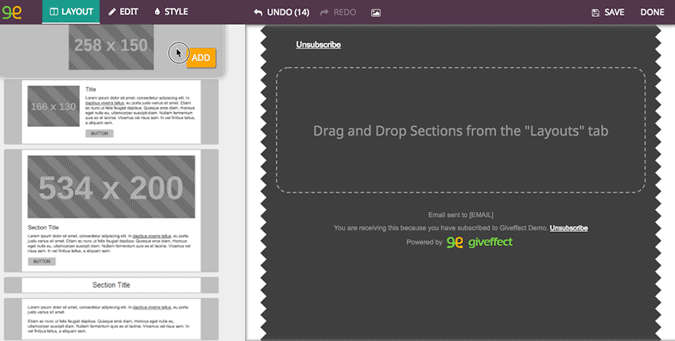 Did we mention Mail Merge for direct mail templates? This is healthcare nonprofit autiomation at it's finest.
With Giveffect, your marketing team is empowered to reach donors in a new way.
Smart Automation Centralizes Your Constituent Data
Your healthcare nonprofit has a plan to engage a variety of donors through a series of email marketing campaigns, ticketed events & auctions, and placing a big push on moves management. Will your various software solutions work in tandem to actually move the needle? Or will it cause your team more meetings and data entry?

The true power of Smart Automation is witnessed when your organization is operating at its full potential. Giveffect clients run multiple fundraising and event campaigns, volunteer management efforts, and even wealth screening and move management, all from one backend. At any given moment, data moves seamlessly into the Giveffect CRM, automating an endless stream of work you would have with software that wasn't designed to integrate with each other. Even the "nonprofit software integrations" of today require a team member to build and manage the automation, as data can never seamlessly move from one source to the next in an automated fashion.

Your organization has a tall task: To invest in healthcare solutions for communities across the globe. Why settle for software that creates siloed teams, stifles automation, and ultimately fosters manual data entry? Nonprofits cannot rely on single points of data to tell the entire story of an organization. To truly be effective, your technology must integrate every touchpoint of the constituent management cycle, in and seamless and automated fashion.
To learn more about how Giveffect simplifies healthcare nonprofit automation, let's schedule a demo with your team today.