Your Holiday Appeal and How Giveffect Can Make it Better
A nonprofit organization's holiday appeal is one of the most important parts of its overall strategy. With the holiday season being as active as it is when it comes to giving, it's the perfect time for nonprofits to make creative appeal letters and strategies that will maintain donors and obtain new ones. But there are also a ton of other nonprofits out there that are going after the same donations. So what can you do that will set you apart, allow you to maintain your current donor base, and reach new donors who are on your radar?
The reality is this: a holiday appeal has to be effective in a number of ways. It must be personal enough to make everyone who receives the appeal letter feel as if you are talking directly to them, and cannot apply to any other supporter or donor. It has to catch the eye of the target and get them to elicit some kind of emotional response. A holiday appeal should accomplish most, if not all, of the following:
Connect with prior donors
Produce content that is engaging and attention grabbing
Explain the issue that your nonprofit seeks to resolve
Talk about how each donations helps meet the overall goal
Make donating as easy as possible through several different means
Seeing as your holiday appeal has to accomplish all of these things at once, your organization has to be very meticulous in how this appeal is put together. Luckily, there is a software system that was created specifically for nonprofit organizations that can help you in doing so. Giveffect's 10-in-1 nature gives you the distinct ability to create holiday appeal letters that are easier to send out and will get your organization even more attention, which can then translate into donations.
You can streamline your email and direct mail process for creating your annual appeal because of Giveffect's drag and drop features, which allow you to create annual appeal messages in a more timely fashion. You do not need to be a HTML whiz or a coding genius. And when you create your annual appeal, the information you create is automatically updated in the backend. Our software system software allows you to create appeal letters and appeal campaigns easier and with more convenience so that you can reach donors and supporters more efficiently. In Giveffect, you're even given also allows you to preview how your annual appeal content will look in a desktop, laptop or mobile format.
For example, let's say you are just at the beginning of putting together a holiday appeal email campaign targeted at a certain demographic. In the backend of the Giveffect software system you can simply go to the side navigation bar, scroll to the Email Campaigns option, and click on it. Then, you click on the "Add a new email campaign" option. Once you have identified the groups that you want to target, you can go back to the CRM tab in the navigation bar, then choose "Contacts", and then "Groups". By then clicking "Manage", you can choose from a number of different groups that are available in your platform. This is a great tool for you to segment your groups and make your holiday appeal even more effective, instead of simply throwing stuff against a wall and seeing what sticks. Giveffect gives you more tools to focus your efforts.
The launch editor found within the Email campaign tool is a helpful tool as well. It is where you can easily create your holiday appeal email newsletter. Once again, with the drag and drop features, you are able to change around pictures, backgrounds, colors, shapes and wording so that your letter and email fits the mood of the holiday season. You don't need expert level skills to be able to put together your email as fast and as efficiently as possible. With the tools found in the launch editor, you're given everything you need to make the most attractive and impactful holiday appeal.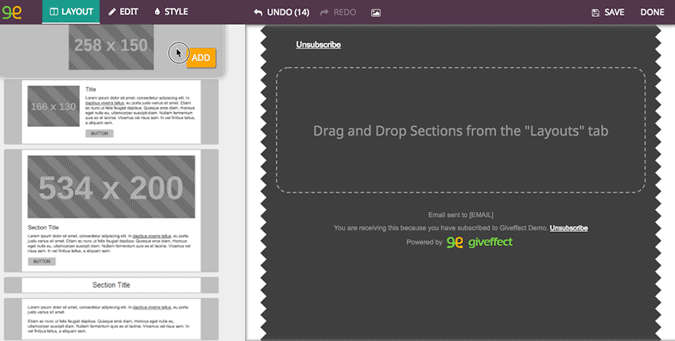 Maybe your organization is still sending out direct mail for your holiday appeal. If so, Giveffect is still set up for you to succeed. In this case, you would want to go to the "Mail template" option in the back end. When you're in the area, you can click on "General Correspondence", then choose "Add New Template". Or, you can edit a template that you already have. Either way, you'll be able to easily, conveniently and quickly create a direct mail message that will be sent to your sponsors and donors ASAP.
And with Giveffect, creating your holiday appeal letter, email campaign and/or message is made even more convenient due to Smart Automation. It is the Smart Automation software that gives you that 360-degree view of everything that goes on within you nonprofit organization. Our systems make it so that you are not only getting a fully-integrated software system that has 10 systems in one that all talk to each other, but one that makes it so that everything that happens on the front end is automatically updated in the backend. So with your holiday appeal, you no longer need to manually enter donor information into a Google sheet or an Excel spreadsheet. It is already done for you.
Ready to get more information on what Giveffect can do for your nonprofits' holiday appeal? We're ready to show you how we can help. Visit our website today to request a demo.