How Giveffect and Smart Automation Benefit your Fall Fundraising ideas
The dog days of summer are upon us and the start of the fall season is only a few days away. That means that many nonprofits have been getting geared up for their fall fundraisers. And believe us, there are a ton of fall fundraising ideas to go around. The cooler weather and changing natural surroundings mean that there will be less chances to get people to come outside. But people are also coming back from vacation and getting back to the regular grind of school and work. This means that they will also be looking for more chances to be involved in events and campaigns that are worthwhile where they can help other people. So, falls is one of the best times of year for nonprofits and charities and start ramping up their efforts and get those fall fundraising ideas off the ground.
With fall being a time for gathering, it is the perfect time of year to create fundraising campaigns that will allow people to come together, get outside, and get involved. You want these to be campaigns that will create camaraderie and fellowship between large groups of people. With the holiday season now being right around the corner, people are more willing to enjoy time together that is spent amongst immediate and extended family, old friends and other people that they trust. They are also apt to want to bring these people along with them when they volunteer and/or become part of a campaign or event.
Halloween 5K or Thanksgiving Turkey Trot
Chili Cook-off
Harvest Festival
Fall Carnival Event
County or State Fair
Pumpkin Patch Festival
Pumpkin carving contest
Cider Mill Tour
All of these ideas are great and have potential to generate a lot of attention and support. But if you don't have the proper tools in place, including a software system that is integrated, connected and able to decrease the time needed to complete administrative work, these ideas cannot be brought to life. Think of it in this way: you want to run a Halloween-themed carnival towards the end of October. You and your staff will need to recruit volunteers, collect donations both online and offline, check in and check out both volunteers and event attendees, track any sales of food and drinks that you conduct, send out email invitations, connect with sponsoring organizations, and create a fundraising campaign page, among other things. You want your carnival to be a fun time for everyone who attends it, and you want it to run as smoothly as possible. You probably won't be able to do that if you are worried about having to go in and out of different, unconnected software that is not integrated and does not speak to other software.
Giveffect allows you to automate constituent and volunteer check in
Using Event Buddy, the Giveffect mobile app, you no longer have to manually enter information of who is checking into your fall campaign fundraising event and when. You do not need to create a separate Excel spreadsheet or use a scrap piece of paper. This is because when you use Event Buddy, all of the names, phone numbers, email addresses and other information that is taken at check in is automatically entered in at the back end, again, due to the power of Smart Automation. All systems are connected and speak to each other, and everything that you do is recorded without you having to do any manual data entry.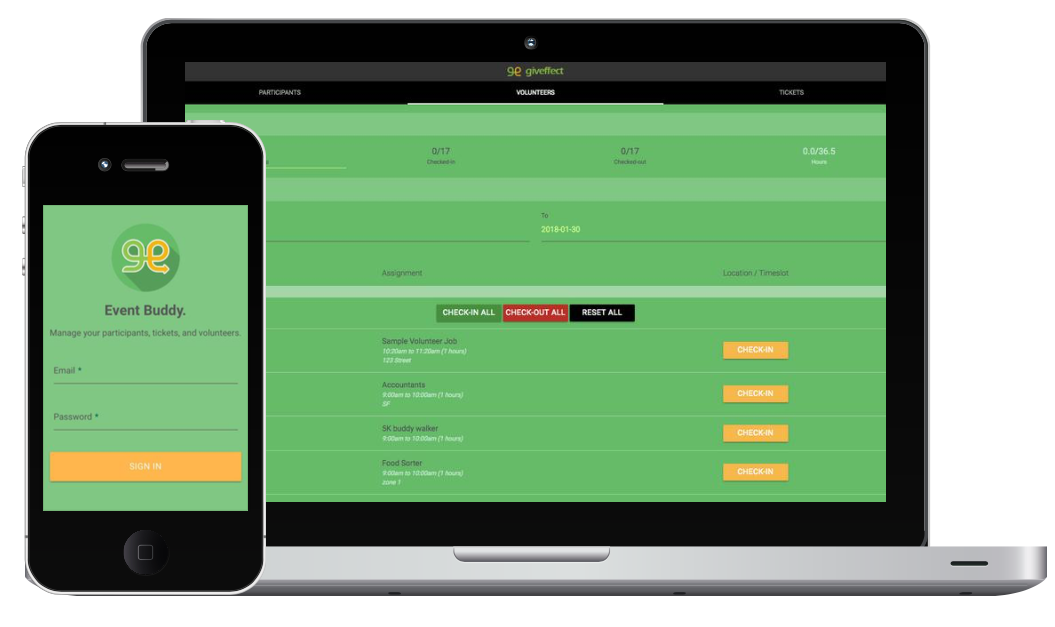 Giveffect allows you to automate the volunteer application process
Any fall fundraising event with the goal of raising lots of money will need a substantial amount of volunteers. Your organization can take advantage of people who want to volunteer for your Fall 5K Run, harvest festival, and even a haunted house by streamlining the volunteer application process. You want to make sure that your application process is as easy as possible. This becomes easier and very convenient in Giveffect, as your volunteer management system speaks to all other systems and asks all of the most important questions about potential volunteers. To create a user-friendly volunteer application, in the back end of the navigation bar, click on the Charity Settings. Then, locate the Volunteer Application tab. This allows the team at your nonprofit to manage what questions are asked when determining what potential volunteers will be the best fit to be part of the organization.
Giveffect allows you to automate the website building and web hosting process
Creating a website for your fall fundraising event can be done in a snap in Giveffect. Little to no technical or coding talent is needed because the system is completely drag and drop. This means that Giveffect allows you to create an engaging, powerful website to serve as your Fall Fundraising campaign event page where people can sign up to volunteer, make donations, create teams, and more. In the back end view, you can seamlessly begin creating your website and publish it within a day. By going to the Website Builder tab and clicking the Add Website button, your new domain will be launched, and your now ready to begin editing your website. Clicking the pencil icon opens the Website Editor, which allows for full customizations of colors, fonts, and other capabilities for unique experience to your organization.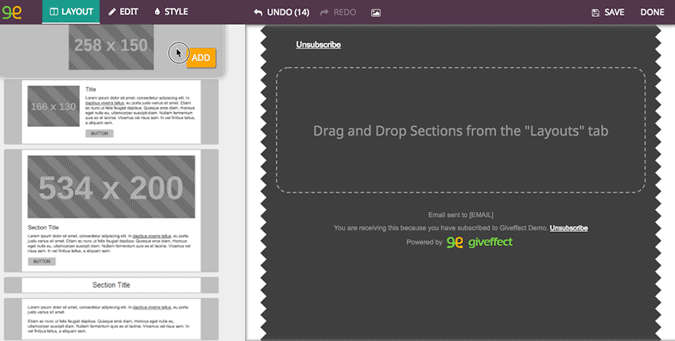 And even with all of this, the most powerful part of the Giveffect system is the Smart Automation feature. This is the engine that makes everything within Giveffect keep firing on all cylinders. Smart Automation helps you to automate all of your time consuming work and make it as streamlined as possible. In recruiting volunteers, building your fundraising website, and making sure constituents and volunteers are checking properly, Smart Automation ensures that your entire system is connected and integrated, and that manual data entry no longer takes up your valuable time. Everything that happens on the front end gets automatically updated in the back end. Furthermore, you can easily and seamlessly create the most robust reports to send to executives and stakeholders using our reports & queries features.
Do you want to increase and expand your volunteer base? Do you need to target new major gift givers? Do you need to strengthen your fall email marketing and direct mail asks? Regardless of your goals, Giveffect is here to help you meet and exceed these goals by lessening your administrative workload through technology and automating your daily duties.
Want to learn more about how Giveffect and Smart Automation can help your nonprofit organization in its Fall Fundraising efforts? Schedule a demo with us today by visiting us online at giveffect.com.