How Giveffect's Email Marketing System Makes Your NPO Stronger
Email marketing has the potential to make a lasting impression on those who it targets. Whether it is the actual decision maker or someone who is connected to them, a nonprofit has to be able to create an engaging, well thought out email marketing newsletters and other tools that get supporters and potential supporters excited about contributing to a cause.
For this reason, Giveffect has created an email marketing, newsletter and direct mail system that puts everything needed to create email newsletters and campaigns at the users' fingertips. We understand that nonprofits need these tools to be readily available and connected, but also easy to use, convenient and engaging.
Let's take a closer look at some of the specific pain points when it comes to email marketing. The first is in regards users having to unsubscribe from an email list. In other software platforms, you would have to go through several pages of text to unsubscribe from an email list. First, you must click the unsubscribe button, then update their database file, then download the file and import it into their CRM system, as shown below.
What if you wanted a list of constituents who are subscribed to your emails, volunteers more than 20 hours per month, and donated at least $1000? Again, this requires that you would need to leave one system for another, which causes the potential for more errors on the part of the user.
Let's see how simple that can be in Giveffect: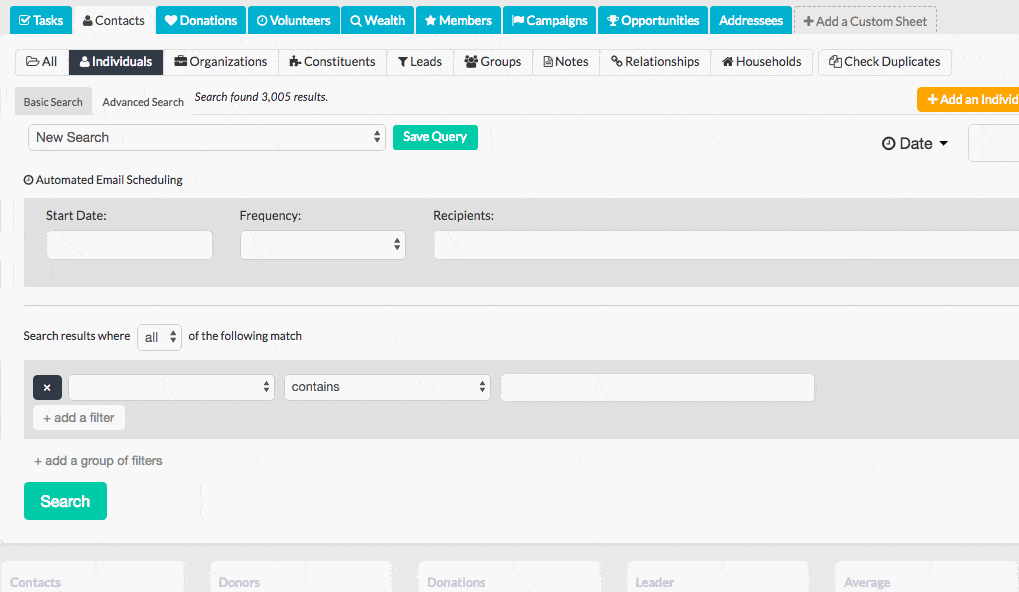 In Giveffect, these pain points are remedied automatically through Smart Automation. For example, instead of having to go through several steps to ensure that an unsubscribe action has been taken, Giveffect, through SparkPost, integrates your campaign activity into each donor's record so that your nonprofit can have access to all of Giveffect's email marketing data. Via Smart Automation, users can click the unsubscribe button within the email that was sent on their front end and their profile within your CRM will be automatically updated:
Although user email activity that occurs would happen in the front end, in the back end, you as the admin become aware of each constituent that unsubscribes, eliminating the need for any kind of manual data entry, be it updating a database, or any downloading or importing. That's because all data points are updated automatically once your supporters click unsubscribe, open an email, or make any other interactions with your organization. Users are also able to send automated tax receipts, customized responses based on donor activity and other custom features within the Giveffect system via Smart Automation. Even individual unsubscribing from your emails, as well as any other action someone takes in terms of emails, is automatically updated in your system. As such, you get a 360 degree view of everything your donors, supporters and volunteers have done with and for your organization.
Giveffect's system also allows you, the user, to build email campaigns with a fully integrated email marketing system that is connected to our other nine systems and is powered, once again, by Smart Automation. Some of the things you can do in the Giveffect system include using the drag-and-drop email template builder that includes an HTML web editor, the mobile-friendly cross-browser and compatible generated emails, seamless mail list segmentation of your database, analytics on open rate, bounce rate, click rate, unsubscribe stats and URL tracking, and a full history of all interactions logged for each database contact.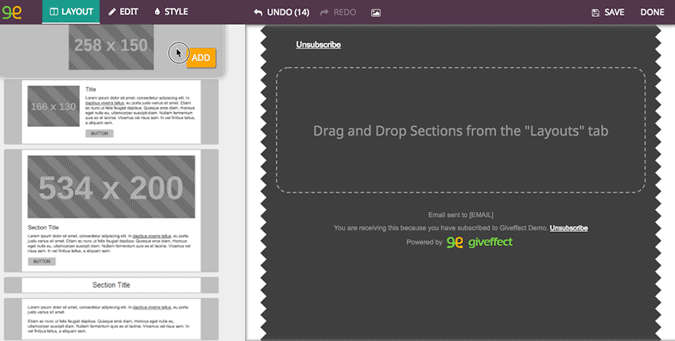 Within the email system, there is an email template builder. This builder allows a user to easily create and maintain email campaigns. Within the Giveffect Mission Control backend, you simply click "Email Campaigns" at on the side. Then, click the "Add New Email Campaign" button, enter in all of the proper information such as Email Campaign name, who it is going to, who it is from, and subject line, and then click "Launch Editor". From there, users are taken to an easy-to-use drag and drop, copy-and-paste editor. At the side are the build elements, and the larger section is the actual template where a user sees their email being created.
Furthermore, running custom email campaign reports and finding information on email campaign analytics becomes much easier. Within Giveffect, you can click on the activity icon on the email campaign page, allowing you to access the analytics for a specific campaign Email Campaign Analytics calculates how many recipients should have received your campaign (total), how many were actually delivered, and who has opened your email as of that moment.
The best part of all the email campaign creation tools is that there is no need to have technical skills. Our WYSIWYG (what you see is what you get) editor/interface makes sure of that. And the seamless integration means that no importing or exporting of email addresses between different systems is necessary.
Giveffect can help your nonprofit organization with all of its email marketing and direct mail efforts. And with Smart Automation, you get the piece of mind in knowing that the email marketing and direct mail software systems are fully connected to all of our other systems, including the website and web hosting, contact and relationship management, and volunteer management systems. Whatever you see happening with your email system on the users' end will be automatically updated in the administrative end of the fully connected system.
Our purpose is to help your nonprofit make the most of what your email marketing campaigns can be, through all possible means. We encourage you to learn more by requesting a demo today!
Want to learn more about how the Giveffect all-in-one software system can help your email marketing and direct mail efforts? Visit us online at www.giveffect.com.