Holiday Nonprofit Volunteer Management with Giveffect
The holiday season is sure to bring on more people looking to volunteer their time at nonprofits of all kinds. The holidays are also a great lesson in nonprofit volunteer management. This is the time of year where generosity grows and spikes, and nonprofit organizations must be able to take advantage of the influx of volunteer help they are sure to receive. At food banks, medical relief organizations, clothing banks and other nonprofits all over the country, the holidays are when more people who are willing to help. But if a nonprofit does not know how to keep track of or handle an influx of new volunteers, they may be in for a rude awakening. Which is why they have to make sure they have the right tools in place to make sure volunteers, whether they are temporary or more long term, are properly accounted for.
Let's create a scenario to illustrate the point. We'll say that you are the volunteer manager at a fairly large nonprofit organization that specializes in sending medical supplies to developing countries and areas impacted by natural disasters around the world. Your organization has a partnership with another nonprofit for a holiday season campaign starting in November. The partner organization will bring in volunteers to work in your facilities to help sort and package the supplies so that they can be distributed to communities around the world. Although these volunteers are not officially part of your organization, you've been asked to track them, count them and include them as part of your volunteer base for the purposes of your annual report. Usually, you would track these employees by simply entering their information in on an Excel spreadsheet or some other tool. However, in the past, maybe this spreadsheet has been lost or deleted on several occasions due to user error. You've always thought that there was a better way to track all of the temporary volunteers your organization is working with. Well now, there is…through Giveffect
With Giveffect, you are given an array of tools within the volunteer management system that allows you to streamline your nonprofit volunteer management during the holiday season. In our scenario, we can see that there will be many volunteers signing up to help your organization, probably from the end of October and possibly through the month of January. Why not try to streamline the volunteer application process and form? Giveffect's volunteer management system allows you to customize this form to fit your organizational needs, so that you are asking the most important questions of potential volunteers. The best part is that the information entered into your customized volunteer application is automatically stored in the back end of the database.
Now that you actually have all of your temporary volunteers in place, wouldn't it be good to accurately update your volunteer calendar to reflect many more volunteers being on site during the holidays? You can do just that with Giveffect. The system that gives you a 360-degree view of what is going on throughout your nonprofit also allows your organization to create a volunteer calendar that gives your volunteers the most up-to-date information about where they will be located for specific assignments. With this calendar, volunteers can rest assured that they have the proper amount of time blocked off to be at your facility to give of their time. Additionally, the volunteer calendar you create is also connected to the rest of the system through Smart Automation, meaning that any updates made to the volunteer calendar will be reflected in the backend. So, once again, there is no need for you to enter any information in manually. It's already done for you.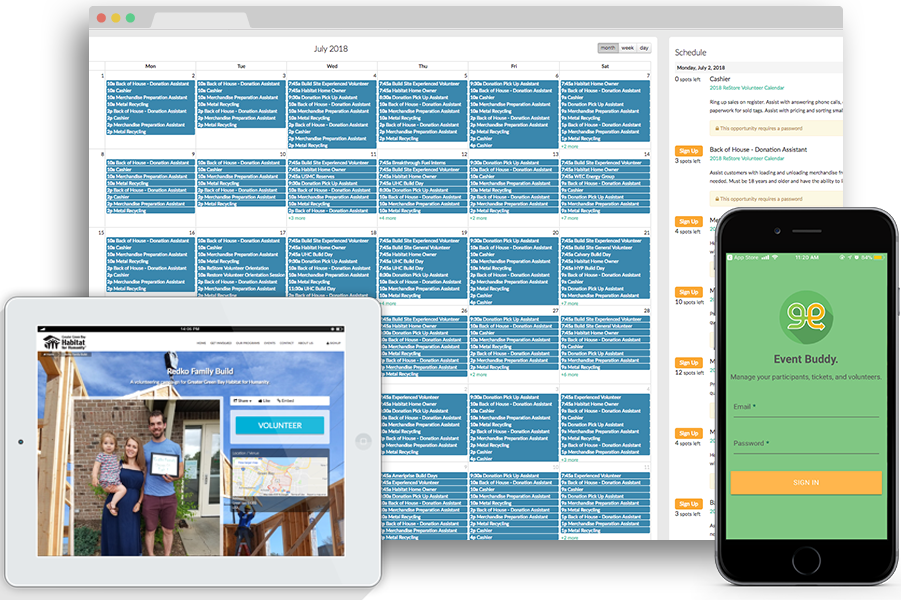 But maybe you have an event that requires your volunteers to check in and keep track of major donors and other constituents. If so, Giveffect has you covered there, as well. The Event Buddy smart mobile app allows your volunteers to use mobile devices as check in kiosks to keep track of constituents attending your holiday party, gala or function. There is no need to keep track of who has attended and who has not on the part of the organization because this information will be updated in the back end with the Giveffect system and all parts of it being completely integrated and connected at all times. For the purposes of our scenario, maybe your medical relief organization is having an end of the season wrap-up party to thank all of the volunteers who helped out this year. And let's say your volunteers are encouraged to bring friends and family along. Using Event Buddy will make check in of volunteers and their families, and nonprofit volunteer management overall, that much easier.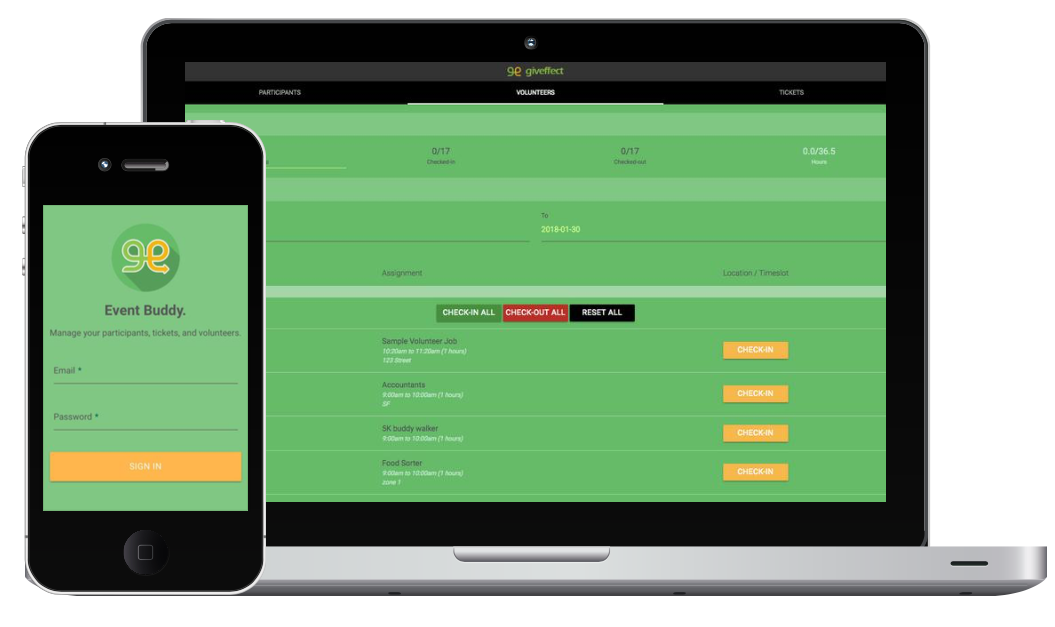 In addition to all of these features that you get to help improve nonprofit volunteer management during the holiday season, you also get our signature tool that links the volunteer system to all of the other ones. This is known as Smart Automation. Smart Automation gives you the opportunity to use your volunteer management system in conjunction with your website and web hosting system, your financial services system, and more. Because of this tool, your volunteer management system is connected to integrated tools that allow you to send out email addresses automatically, create reports at the drop of a hat, and reduce the need for data entry, because it is automated and ready to use. Due to Smart Automation, all of the information that is collected in the front end of any volunteer management process is automatically entered into our database without you having to do anything in the way of manual data entry.
We are Giveffect and we are here to make your nonprofit organization run as smoothly and efficiently as possible when volunteers will come knocking at your door to help during the holiday season through our all-in-one, automated and integrated software system. We show a better way in how to manage volunteers and how to track them as best as possible.
Want to learn more about how Giveffect and Smart Automation can help your nonprofit organization strengthen its volunteer base? Schedule a demo with us today by visiting us online at giveffect.com.