How to Successfully Operate a School Fundraising Campaign Using Giveffect
The beginning of a new school year is just about here! Children will be headed back to school all around the country. That said, there are many organizations and community groups looking to hold school supplies fundraising campaign drives for children and their families who are unable to obtain these supplies themselves. Wouldn't it be amazing if these organizations could use a fully integrated, automated software system to ensure that they secure the most donations?
Now, they can. Using Giveffect, an all-in-one, integrated, automated software system that brings together wealth screening, fundraising, web hosting, and email marketing tools, among others, schools and community groups of all kinds can automate everything they are doing and what they are collecting. They can create various types of fundraising campaign pages that will get more people involved, resulting in more donations. They can create an engaging email marketing campaign for a school supplies drive that will be seen by more potential sponsors and supporters. They can even use tools such as the Event Buddy mobile companion to check in volunteers and participants at a school supplies fundraising event. And the best part is that each of our systems are seamlessly connected to one another and powered by Smart Automation. This convenient, robust tool ensures that everything that happens on the user side of Giveffect is also automatically updated on the administrative side. This means that nonprofit organizations and their employees are now able to focus more on making high level decisions that fuel their mission instead of giving attention to manual data entry. This also ensures that all of the school supplies and money donations are properly reconciled.
Let's look at how you might run a school supplies drive campaign using Giveffect. The basics of starting and running any school supplies collection drive and fundraising campaign might go as follows:
Connect with people in your community for help
Adopt a school and determine supplies needs
Create a step-by-step plan
Promote your drive
Drop off your supplies to the school
Follow up with participants and send personal thank you emails
Send out tax receipts to all donors and supporters
Easy enough, right? But what about all of the administrative work, planning, promoting, and executing that happen in between all of these stages? Well, that's where Giveffect comes in to help.
First, you will want to determine what type of fundraising campaign you want to run. The different type of school supply drive fundraisers you can create on Giveffect: team fundraiser campaign, event fundraising campaign, simple donation campaign, RSVP Management campaign, Peer-to-peer fundraising campaign, crowd funding fundraising campaign, personal fundraising campaign, or an auction fundraising campaign.
Once you determine what your type of fundraising campaign you will run, you want to create the actual campaign's home page. Giveffect allows you to do this is just a few simple steps. In a matter of minutes, you can create a team, event, and even a crowd funding campaign. For the purposes of this example, let's say we have created an event campaign. All of our campaign modules will enable your nonprofit's customizable color scheme. You can also enable team signup, participant and sponsorship sign up, ticket purchases, crowd funding rewards, and a donate button on the campaign page. Furthermore, every donor, team captain, volunteer, and other participant will be automatically logged into your constituent database because of Smart Automation.
Next, maybe you'll want to develop and create an email marketing outreach campaign to promote your event and spread the word even further. If so, great news! You can use Giveffect to create a seamlessly integrated email marketing campaign that has a wide reach. First, you want to make sure that you email integrations are set up either through Sparkpost or through Mailchimp. Once this is done, you will then start creating your email template. First, you'll go to the administrative side of Giveffect and on the left navigation bar, click on Email Campaigns. Then, click the "Add New Campaign" button and proceed with creating your email campaign. You have a Text/HTML Email editor and a Template Editor in the system that helps you to easily create your school fundraising campaign email newsletter.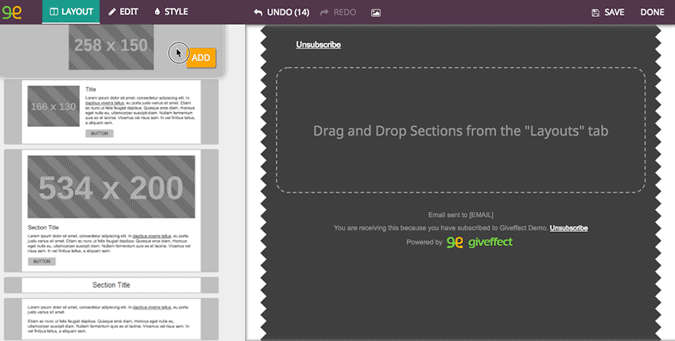 Now that you have created your email campaign and your event fundraising campaign page, you will promote, promote, promote. You also want to make sure that you properly staff this event with volunteers. You can do this in Giveffect by creating volunteer jobs, shifts and assignments. This will make it easier to know where your volunteers are during the event, what they are doing, and how successful they are.
And when the day of your fundraising campaign event arrives, it's now time for your volunteers to start checking supporters into your event directly onsite. Event Buddy, the Giveffect mobile companion that is also integrated with the rest of the system due to Smart Automation, allows you to do this without an issue. The Event Buddy free mobile and web application provides functionality for your volunteers to check in and check out constituents and other campaign participants to your school supplies drive event, all from a tablet, mobile device or laptop. Therefore, there is no need to enter participant names into an Excel spreadsheet or into any other system. Once a constituent is checked in, they are automatically recorded into the Giveffect administrative end via the power of Smart Automation. You can access the Event Buddy app from the volunteer tab right in the Giveffect administrative side.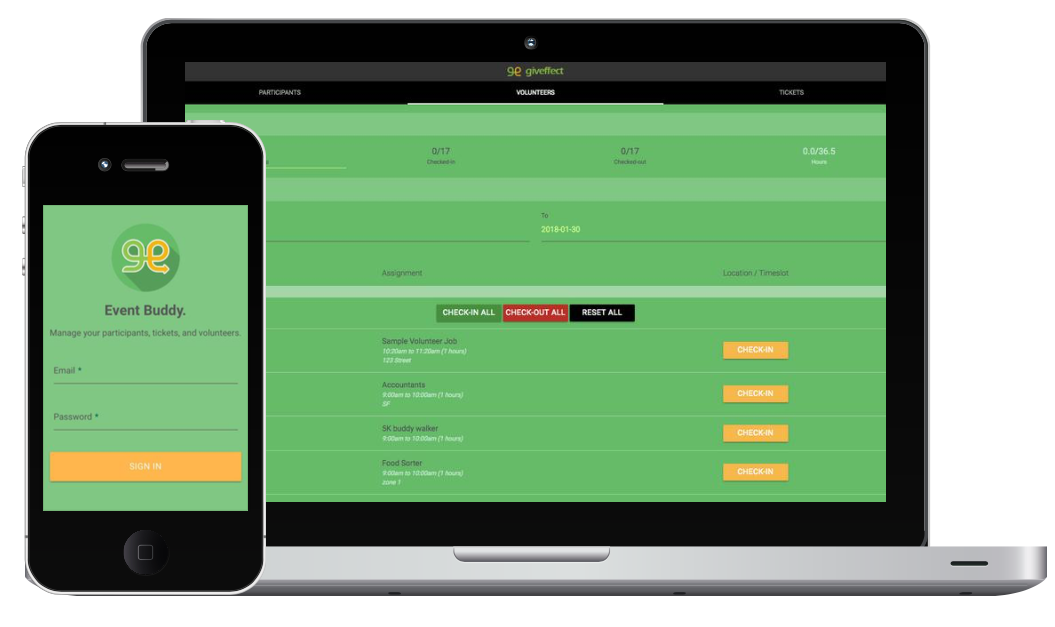 During the course of your fundraising campaign event, you will want to keep track of the donations of both the financial and the physical donations that are rolling in. The good news is that Giveffect does all of this for you. Any donations of money or school supplies that you receive through your fundraising campaign page will be automatically recorded in the other end of Giveffect. So any donations of pencils, pens, notebooks, print paper, or anything else can be recorded as an in-kind donation in Giveffect's CRM section of the administrative end. Simultaneously, anyone who actually gave of the their in-kind or monetary donations will also be recorded and noted in the Giveffect administrative end, again, due to Smart Automation.
After your school supplies fundraising campaign drive has wrapped up and donations have been counted, accounted for and dropped off to your school, it's now time to make sure that you properly recognize, thank, and compensate all of your constituents and other participants. The best way to make sure everyone who donated is recognized is first with a tax receipt, and next with a personal thank you email. And once again, Giveffect automates these tools for you. Those who visit your event page and donate online have a tax receipt generated for the automatically. And even if someone donated in person, generating a tax receipt happens just in a few steps. On the administrative side of Giveffect in the navigation bar, simply click on Configure Tax Receipt to get started. It only takes a few minutes to create a tax receipt for the supplies your constituent donated.
Giveffect is the tool that streamlines everything with your school supplies drive fundraising campaign. It allows you to create a campaign page where your constituents can donate easily, conveniently and without much effort. It helps in creating an email campaign for the drive that promotes your fundraising campaign. It enables you to create volunteer jobs, shifts and assignments. It gives volunteers the ability to check in the event participants the day of your event with Event Buddy. And it automates the creation and distribution of tax receipts to your constituents. Most importantly, it is a system that is all connected, integrated, and seamlessly powered by Smart Automation. Which means that you never need to leave the Giveffect platform, and that whatever happens on the user side is automatically updated on the administrative side. When it comes to gathering the tools and supplies needed by the school you are supporting, Giveffect's software is unrivaled in making the process easier.
Want to learn more about how Giveffect can help your nonprofit in doing a school supplied fundraising campaign? Schedule a demo with us today by visiting us online at giveffect.com.