Smart Automation Can Save Your Nonprofit 30 Extra Hours Per Month
What could your nonprofit organization do with an extra 30 hours per month gained from a decrease in manual data entry and administrative work? Think about it: whether you are a wildlife rescue organization, a human rights organization, or a scholarship fund, time is of the essence when it comes to your success. Spending too much of your time focused on performing administrative work and on manual data entry takes away from precious time that you could be spending on connecting with wildlife enthusiasts, attending a networking event and meeting people who can support your scholarship, or attending a human rights conference. With Giveffect and due to our signature Smart Automation software giving you a 360-degree view of everything that is going on in your nonprofit, you can now look forward to figuring out how you will spend the extra time that you are saved on a monthly basis.
Nonprofit organizations that use Giveffect reported that they saved an average of 30 hours per month in their daily duties. Giveffect's signature Smart Automation software tool shaves off daily administrative tasks by powering your database, fundraising campaigns, email marketing, and more. This statistic is one of the most important examples of what Giveffect is able to do for its valued clients. When nonprofit organizations implement the all-in-one system that Giveffect is, these organizations allow themselves to be open to creating more and greater opportunities because of Smart Automation. It is Smart Automation, our signature software, which helps to create these opportunities.
Smart Automation is a system of convenience and ease at Giveffect. It is the engine that makes the software run on all cylinders. Anything and everything that happens on the front end of Giveffect (donations, sign-ups, peer-to-peer fundraising, scheduling) is automatically generated into the back end of the all-in-one system. The system has been deliberately created in this way to provide greater convenience and less time spent on administrative duties and manual data entry. The purpose of our software is to make life easier for those who are using it. We don't want you to spend hours and hours manually inputting data or having to correct mistakes. We believe that your software should make your life as easy as possible. And we do this for you through an all-in-one, connected system that also features a tool in Smart Automation that is purposely powered to bring everything in your system together so that you don't have to.
Within Giveffect, you find that all of the systems are connected and integrated. You have a Customer Relationship Management database that is also a giving system, a volunteer system, an events & fundraising system, a relationship management system, a nonprofit management system, a membership management system, a website and web hosting system, a wealth screening & major donor system, and a marketing and communications system. All of these systems speak to each other on a regular basis. Because of that, Giveffect allows the user to take advantage of automated data entry instead of having to perform manual data entry, allows for the customization of outgoing emails and letters that can be sent to supporters, has a wide array of both canned and customized reports that users can pull that are also integrated, and a host of other integrated tools that work together in an automated, connected system.
And when you save are able to use a tool like Smart Automation, you can potentially save loads of time. Our average client saving 30 hours per month on administrative tasks and manual data entry is a substantial number. Within any nonprofit, anything tool that can save you both time and money should be taken seriously. That is the exact tool that Smart Automation is. It also means that valuable time is given back to the organization and its employees to do the necessary work that will help it move forward.
Make Greater Connections with Existing Constituents – Smart Automation saving your organization time can free you up to build your stronger relationships with those who are donating to your cause on a regular basis. Make a lunch date, give them a tour of your office, or invite them to an event by one of you organizational sponsors.
Attend A Conference or Seminar – Maybe you have a seminar or workshop you've been itching to go to. What a great opportunity to learn something new and apply it to your nonprofit.
Attend a Networking Event – Because of you freed up time, this would be a good time to attend to build even more relationships with other members of your nonprofit community. Shake hands, exchange information, and start building more connections.
Learn a different part of the Giveffect system – There is always something new to learn with Giveffect. The system has constant updates to it. Plus, there may be another pat of the system that you want to learn more about and work in, such as the nonprofit management system. Or maybe you want to learn how to create or update your Giveffect website, or learn how to create an email template. Whatever you want to do, with 30 hours of saved time because of Smart Automation, you'll have that time to get more familiar with your Giveffect system.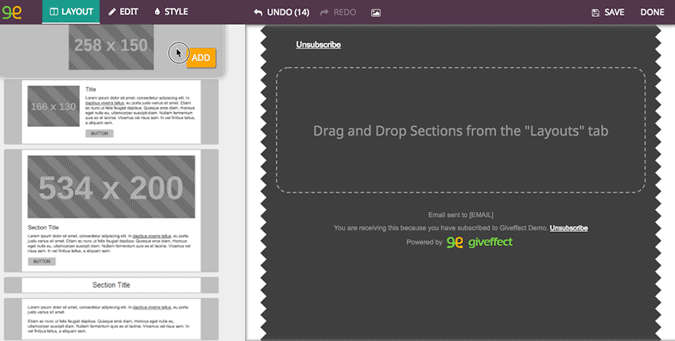 Does focusing too much time and energy on administrative work and manual data entry hinder your organization? If so, it's time to consider moving your organization to a platform that is going to be more adept at saving you time, money and energy. Giveffect can be that platform for you.
Want to learn more about how Giveffect and Smart Automation can help your nonprofit organization? Schedule a demo with us today by visiting us online at giveffect.com.