Ticketed Campaigns and Events Done the Giveffect Way
Nonprofits hold all kinds of ticketed campaigns, events and fundraisers to get their supporters even more involved in their cause. Maybe your nonprofit holds an annual gala to raise funds for its next fiscal year. Or, maybe you hold a battle of the bands competition to get a younger demographic excited. Regardless of the actual event, you want to get people in the door and excited about both the event and about your organization.
But long before the day of your ticketed event, there is a lot of work that needs to be done to make it a success. You must determine how many tickets you will issue, what will be the cost of each ticket, what will be their expiration date, and more. In the course of creating a ticketed event campaign, your organization is likely to run into a number of issues that turn into severe pain points. Two of them being:
-Having to use multiple software systems to create events and the tickets for them, and,
-Having to use multiple tools to issue and scan tickets before and the day of an event.
Here's an example: your local chapter of your nationally recognized nonprofit has decided to throw a summer concert series at a city park. Now comes the real work: what will your ticket prices be? Will tickets be sold on a tiered system? How will you issue a tax receipt to purchasers who want to write them off?
You and your staff determine that you will use the event management and booking system Eventbrite for your ticketed campaign. Along with this system, you find out that you can get the Eventbrite Organizer app, which allows you to scan tickets and even barcodes to check people in to your event. The problem here is that Eventbrite exists merely as a stand-alone event management system by itself, and is not connected or integrated with, for example, a your volunteer management system or your financial reconciliation system.
Furthermore, while you may be able to perform actions in Eventbrite or Onecause such as managing multiple fundraising campaigns and events, selling tickets and registering attendees online and on mobile devices, and analyzing the results of your fundraising event, there are still a few missing pieces. Namely, that you would still have to enter the final results of your information into an Excel spreadsheet or some other disconnected, nonintegrated tool that is outside of these tools.
Instead, with Giveffect, you can create ticketed campaigns, right inside the system, determine what your tickets prices will be, issue tax receipts, and scan tickets at the door the day of your event. Giveffect provides a seamless, integrated event management system that takes the wasted time, energy and stress of manual data entry and multiple platforms out of creating a ticketed campaign event due to Smart Automation. With Smart Automation, there is no need to leave the Giveffect platform. Anything that happens with your event's tickets sales, event check in, ticket management, tax receipt issuance and financial reconciliation on the users end will be automatically updated throughout your nonprofit management system.
Giveffect's platform allows you to create a number of different ticketed campaigns, from music festivals to galas to battle of the bands competitions. When you are going through the flow of creating your event, we make sure to cover everything: what type of event you want to have, what kind of fundraising page will be attached to it (basic, multiple participants, and teams), what your campaign event will be about, fundraising goals, optional settings such as participant and donor waivers, any campaign rewards, everything!
The end result is a ticketed campaign event page that will give your supporters options for donating, purchasing tickets in different tiers, and even becoming a sponsor of the event.
And for the day of your event, there is the free Event Buddy mobile app, which allows you and your team to quickly check in attendees on-site at your event. Event Buddy is responsive via tablet, laptop or other mobile devices. There is no need to manually write someone's name on a sheet of paper or to even enter his or her information into an Excel spreadsheet. As your guests walk through the door, you can scan their tickets and in real-time, that data is automatically updated in the back end of the database. Once a ticket is scanned with Event Buddy, you can rest easy that your donor's information is securely stored, safe, and that you will be able to come back to it and pull it without stress or hassle.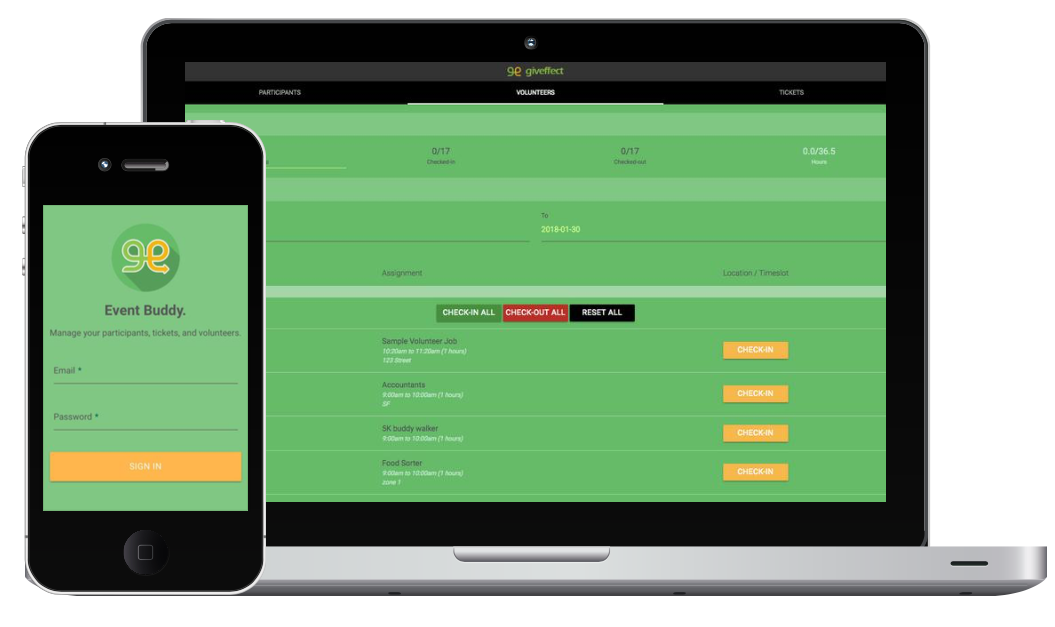 Behind all of these great tools is, of course, Smart Automation. This is our signature technology that automates all time-consuming work that goes into managing both your donors and your ticketing information for your events. Wondering what happens to the information from a ticket once it is recorded? Due to all parts of our system being seamlessly integrated and connected, everything goes to the administrative end of the system without you as a user having to do anything. This makes it easier to see which of your supporters attended your event, which of your ticketed events is succeeding to the greatest degree annually, etc. Not only that, the Smart Automation tool allows you to perform reporting and querying faster and with greater ease and convenience.
Overall, Smart Automation is the tool that contributes to your organization drastically reducing manual data entry. On average, clients using Giveffect reported that they were able to save 30 hours per month because of how Smart Automation seamlessly integrates all of their nonprofit software needs. That is a vital savings of time and resources that helps you and your organization get back to doing fulfilling your vision and mission.
Giveffect makes creating your ticketed campaigns easier with tools that are integrated and seamlessly connected. Our goal is to make your ticketed campaigns, and your nonprofit organization overall, as stress-free as possible.
Want to learn more about how the Giveffect all-in-one software system can help your ticketed campaign efforts? Visit us online at www.giveffect.com.