Volunteer Management Made Easier by Giveffect
Let's paint a scenario: a volunteer with your organization who is fairly new sees that there is an event on your website that is coming up very soon. She wants to attend and help out. But due to so many different things going on in her life, from running a small business to raising children to other organizations she is involved with, she forgets about the event and does not receive any reminders, instructions or notifications about what to do next. The day of the event arrives, and your volunteer, just now remembering the event, becomes frustrated because she has not been given information on who to contact or how and where to check in at the event. Unfortunately, you may have just lost a great volunteer to help your nonprofit.
Giveffect exists so that your nonprofit organization can avoid a situation just like this one. Many nonprofit organizations still keep track of their volunteers though manual data entry. With an array of tools contained inside of it, Giveffect allows volunteer managers and their contemporaries to easily recruit and track new volunteers, manage volunteer jobs and shifts, and makes volunteer reports easier to obtain. Giveffect simplifies volunteer operations for nonprofits of all sizes through extensive reporting, automated data entry, and syncing volunteer activity with other aspects of your nonprofit.
To start, there is the volunteer application flow. Giveffect's system creates a volunteer application that is easy to fill out and submit within minutes. The form is also customizable, meaning that the organization can determine what questions it asks of potential volunteers. The volunteers then provide their skills, interests and any other information you would like to glean from them. Once the application is filled out, potential volunteers can be provided with a signed copy of the organizational volunteer waiver. From there, we do the rest. And the information it is automatically entered into the Giveffect backend because of being connected to the Constituent Relationship Management (CRM) database.
Giveffect's system also allows your organization to create a volunteer calendar that gives your volunteers the most up-to-date information about where they will be located for specific assignments. The calendar is also connected to the rest of the system through Smart Automation, meaning that any updates made to the volunteer calendar will be reflected in the backend.
Giveffect's Volunteer Management system also allows organizations to easily create volunteer campaign pages. Volunteer Campaigns give your organization the ability to raise awareness for volunteer opportunities, while also enabling constituents to donate to a particular cause or project. Volunteer Campaigns are powerful in that anyone who elect to volunteer at your organization can be retargeted by donation appeals in the future. To create a Volunteer Campaign, you will need to navigate to the main sidebar, click Campaigns, and select Create new Campaign. The result is a Volunteer campaign page that is easy to navigate and fun to engage in, such as the one for the Greater Green Bay Habitat for Humanity 2018 Fait Build:
In addition to all of this is the our Event Buddy tool. This is a free mobile and web application that provides the ability for volunteer manager, volunteer coordinators or volunteers themselves, to check in and check out constituents at fundraisers, galas and other events, all at the tap of a button from a laptop, tablet or other mobile device.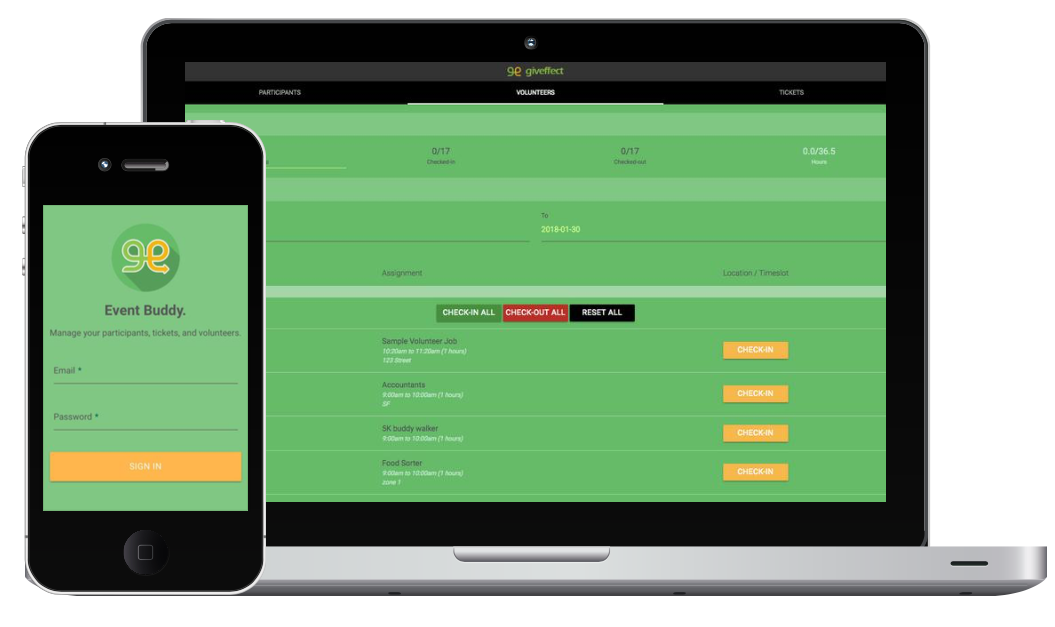 The greatest part of the Volunteer Management System is that it is connected with the CRM Database, which allows your team to query
through your volunteers efficiently based on their skills, availability, and even position and get reporting much easier. This, once again, cuts down on manual data entry and saves time when generating reports or searching for specific volunteer records. Reports can be generated by clicking on the "Reports" bar when logged into the backend. Then, click "Advanced" and you are shown Report fields that you can select and unselect in generating a report. Finally, click "Generate Report" to complete the tasks.
Giveffect's Volunteer management system is part of a fully integrated, all-in-one system that helps to streamline the volunteer management process and makes it more efficient, among other actions. And with the Smart Automation feature, the Volunteer Management system will regularly talk to your other systems (Online Giving, Events & Fundraising, Relationship Management, Nonprofit Management, Website & Web Hosting, Email Marketing, Wealth Screening, Membership Management).
To find out more about our Volunteer Management system or to set up a demo, www.giveffect.com today!