The Giveffect Volunteer Management System: Strengthening Your Volunteer Base
The foundation of any great nonprofit organization is a strong, steady volunteer base. Many nonprofits may not be able to survive without the help of their volunteers. So doing volunteer management properly and having the right volunteer management tools is not only important, it is critical to the success and the existence of many nonprofit organizations. These tools include a volunteer calendar filled with ways for volunteers to get involved, a thorough volunteer application form, liability and waiver forms, and tools so that volunteers can check in and check out of shifts. All of these tools are at the core of a powerful volunteer management system, and are beneficial in growing your volunteer base exponentially.
There are several volunteer management software systems for nonprofits take advantage of, including VolunteerHub, Volunteer Matrix, and Volgistics. Many of these volunteer management software systems may have all of the capabilities such as volunteer scheduling, volunteer reporting, volunteer recruiting, calendar organization, volunteer registration, even third party integrations. They may even offer additional features, such as volunteer cancellations. However, issues may arise when an organization needs to move outside of the volunteer management system into another, completely disconnected system to perform other tasks. This increases the time that it takes to complete these tasks, and more importantly, adds more time to the administrative work and manual data entry needed to complete these tasks. This unfortunately takes precious time away from that which needs to be dedicated to the high level tasks the organization needs to perform to fulfill its mission, and adds the burden of administrative work that may be unnecessary.
For an example, we can look at the volunteer application process of a typical nonprofit organization. Nonprofits are always seeking volunteers, meaning that these days, they have their volunteer application online, and maybe even mobile. This makes it easier for a potential volunteer to fill out a form and send in that form, and it also becomes easier for the organization to onboard that volunteer. But what about when the application process is completed? Where does the information on the volunteer application go? Who or what ensures that this information goes to the correct places? Is there a process that automates the information and puts it in its proper place? Most importantly, what is the amount of time that has to be taken if this information is not automated? Other volunteer management software systems might not be able to answer all of those questions. The end result is that the software user has to manually extract the volunteer application information from one system and put it in another. And there is no guarantee that this information will be accurate.
But with Giveffect, there is a major difference. Giveffect is a volunteer management software system, and a fundraising and events system, and a CRM database, and a relationship management system, a nonprofit management system, a membership management system, an email marketing and direct mail system, a wealth screening system, and a website and web hosting system, among other tools. In a nutshell, Giveffect is an all-in-one, 10-system software tool that ensures that everything done with its volunteer management system is connected and integrated to its other systems and feeds into your CRM database. Giveffect also ensures that everything that happens in the front end is automatically updated in the back end.  This is something you can't get with other volunteer management systems.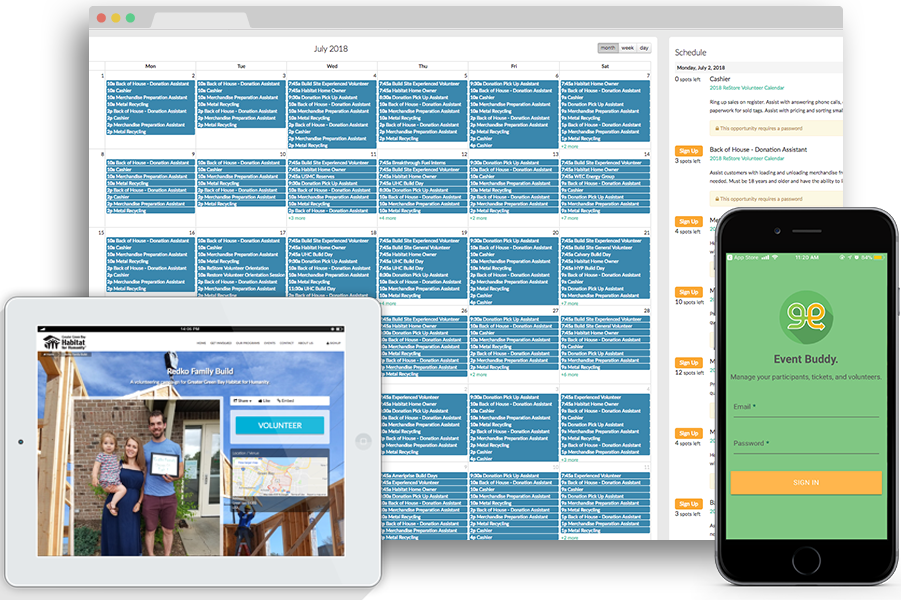 With everything being integrated, automated and seamlessly connected within the Giveffect system, your volunteer management operations and everything else that you do within your nonprofit using Giveffect will become easier. The result is a better volunteer management and donor conversion experience that eliminates the heavy lifting from your routine and takes the burden off of your plate. With Giveffect's volunteer management tools, you can seamlessly recruit new volunteers, create and manage volunteer jobs, shifts and assignments, and even turn your mobile device into a check-in kiosk for volunteers. The numbers speak for themselves. In a survey we conducted with clients, they reported not only a 32.02% increase in fundraising revenues, but they also reported saving more than 30 hours per week in administrative duties. And the results go beyond the numbers in the form of what you can create using Giveffect, including volunteer campaign pages such as this one from our client, Greater Green Bay Habitat for Humanity.
The tools found within the Giveffect volunteer management system are help to create an experience that lightens your load. For example, our client, East Central Ohio Habitat for Humanity, created a webpage using Giveffect that makes it as easy as possible for a potential volunteer to find the volunteer application to fill out and send in.
Their volunteer calendar tool, also created using Giveffect, allows potential volunteers to see all volunteer opportunities that they can apply for. It also allows current volunteers to see where they are most needed.
When a potential volunteer sees an opportunity that they are interested in, they can then move forward with filling out a volunteer application. The flow of the volunteer application process cuts down on time, but also allows an organization to gain the most pertinent information possible from potential volunteers.
First, a volunteer completes basic information.
Next, the system asks the potential volunteer to talk about themselves further.
Next is the section about the potential volunteers' skills and interests:
Then comes a request about availability.
After that, the potential volunteer is asked about additional information.
And of course, there is the matter of information about an emergency contact.
That's it! And after this volunteer application process has finished, all of the information entered on the front end is automatically entered into the back end, or the administrative side with the help of our signature tool, known as Smart Automation. This means that the software user does not have to manually enter this volunteer information in themselves. With Smart Automation, all ten software systems that come within the Giveffect system are automated and connected so that they speak to one another, and so that manual data entry is reduced and can potentially become a thing of the past.
Not only do the tools found in the volunteer CRM database in Giveffect allow for the creation of volunteer campaigns and improve and simplify the volunteer application process, it also allows users to gain access to a myriad of tools and operations in the back end that are powerful in their own right. For example, users are able to more easily create volunteer jobs, and aggregating all of those jobs created by your organization into one place. The Volunteer job tab also contains a comprehensive overview of all jobs that your organization has to offer, including what campaign the job is for, how many volunteers have signed up and locations of sites for volunteering.
Once a volunteer job is created, shifts for that job can also be created. When a shift is created, it generates information such as start times, end times, location of the site, and even how many shifts are available to sign up for.
Other items that can be created in the volunteer system include Regulars (a sub tab in the Volunteer tab that allows constituents that regularly work with an organization to be added in on a repeating basis in the future), Assignments (a sub tab that allows for a shift to be assigned ahead of time and can be used to reserve shifts), and Reservations (a feature that allows an organization to assign team leaders to groups and will reserve a number of volunteers for each group leader dynamically.)
Finally, Giveffect offers multiple reports designed to streamline the way an organization reports at the end of the fiscal or calendar year on everything that they have accomplished. For example, a team or organization can generate a list of all assignments for s specific campaign, and the system will automatically generate total hours logged, due to Smart Automation. Once the report that is needed is generated, it can be emailed to the proper team member or downloaded for further customization.
What's most impressive about Giveffect is that it can replace any volunteer management system that an organization is already using. It is also a volunteer management system that is seamlessly connected to all other parts of the Giveffect system through Smart Automation, including the membership management system, the email marketing and direct mail system, the fundraising and events system, and more.
Giveffect's volunteer management system automates multiple workflows such as volunteer tracking, reporting, and donor conversion to streamline your volunteer operations. The system ensures that an organization can get the most out of their volunteer base, use them most efficiently, and report on their activities and progress. We want to make sure that your nonprofit organization is getting the most out of your volunteer management system. Having a system that is seamlessly integrated and connected at all points is the best way to make sure that happens.
Want to learn more about how Giveffect can help your nonprofit in your volunteer management efforts? Schedule a demo with us today by visiting us online at giveffect.com.