2016 Crush Chiari / Smash Syringomyelia / Squash EDS
.....with your change
About This Campaign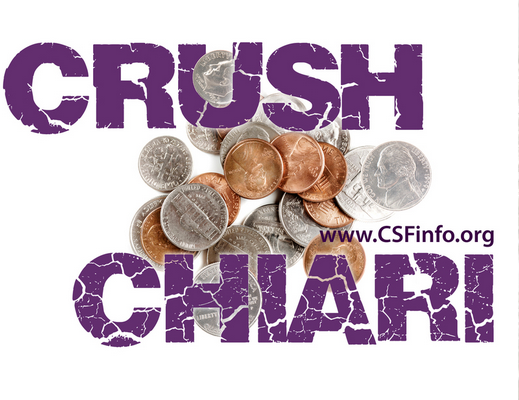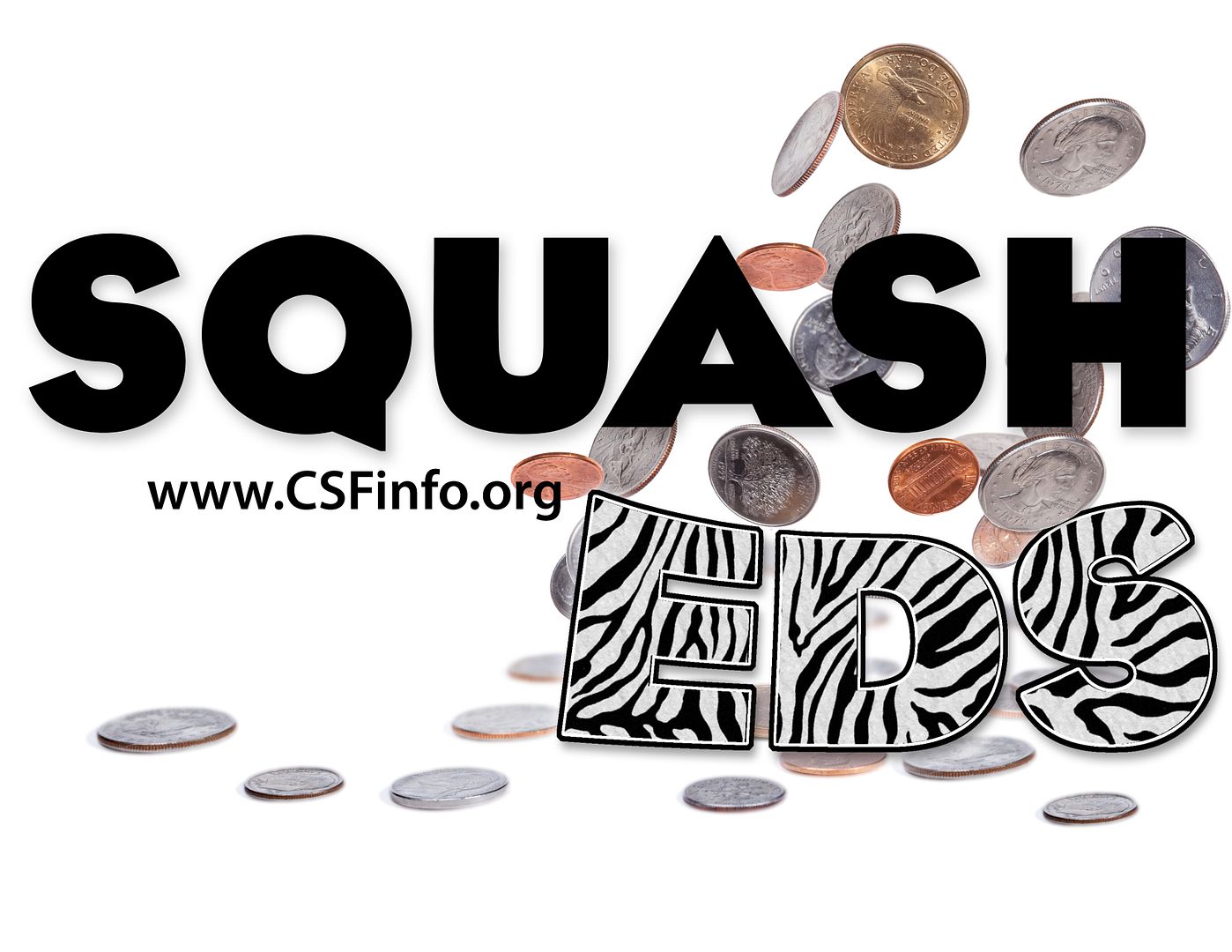 Help us Crush, Smash and Squash... with a little change!
Want to help raise important funds for programs and research that benefit people living with Chiari malformation, syringomyelia and related disorders -- but don't have a lot of time or money? Maybe you want to help but you aren't sure how?
This September, CSF wants to partner with you to
CRUSH CHIARI
,
SMASH SYRINGOMYELIA
and
SQUASH EDS
! It will be fun, easy, and helpful in achieving the goal of totally crushing these disorders. All you need is commitment to a little "change"...
How to get started:
1. Register online by clicking the button to the right.
There are no teams.
2. To make your own branded fundraising container, download the PDFs from CSF's website:
- CRUSH CHIARI small containers
- CRUSH CHIARI large containers
- SMASH SM small containers
- SMASH SM large containers
- SQUASH EDS small containers
- SQUASH EDS large containers
Print these out and tape them onto jars, jugs, containers, etc.


You can also find printable

Chiari

,

syringomyelia

,

EDS

and related disorder info sheets on our website..




3. Collect all the change you can during the month of September. Convert the change you've collected to a check and mail to CSF, 29 Crest Loop, Staten Island, NY 10312. Be sure to include your name (the one you registered with) so you receive credit!

4. You're not limited to collecting change, however! For those who would like to donate online, family and friends can do so through your personal fundraising page on this site.

5. This fundraising site will be open year-round... BUT to qualify to win prizes for this year, CSF must receive all your collected donations by October 7th!

6. The top three Crushers, Smashers and Squashers will have their choice to receive a prize to be announced later.
Note: these top three "Crushers" will have to raise at least $500 to qualify for this prize!


ALL Crushers who raise at least $250 will win a free CSF gift!

7. Get your schools and work places involved! Get out there and collect that loose change to bring on some "change" of your own!



$1,072

raised of

$5,000

goal
CSF: Who Are We?
CSF (Chiari & Syringomyelia Foundation, Inc.) is a 501(c)(3) non-profit organization that was founded in October 2007 with the goal of raising awareness and finding a cure for Chiari malformation (CM), syringomyelia (SM) and related disorders.
CSF Network of Experts
The CSF Scientific Education & Advisory Board is comprised of several internationally renowned medical doctors, professors, scientists and experts. Further, the CSF Board of Directors and Board of Trustees include community and business leaders, educators, legal experts, families and patients, who have long been advocates in the CM/SM community. Their skills and drive to develop, fund, and oversee CSF programs and research will improve the lives of the over one million families affected by Chiari malformation, syringomyelia and associated disorders in the US, alone.

CSF: Recognition & Awards
CSF is currently the only organization serving patients with Chiari, syringomyelia and related disorders to have earned all three of the following distinctions: BBB Wise Giving Alliance Seal, Guidestar Gold Seal and the Health On the Net Code. Check us out in the November 2016 issue of USA Today among the other nonprofits deemed as both effective in their missions, and responsible with their donors' dollars
In honor of my Cari Jo♡ I live you so much and I know your heart and your fears...but keep your eyes on the Lord for he has given you this life, to change the hearts and minds of others. You are a true INSPIRATION! Love, Mom

For our very special Chiari and Cancer Warrior Princess Cari Jo who is definitely and without a doubt #CariJoStrong! This willingness to fight for survival must obviously come from a long line of Strong women in your family including your Mom Tammy, old sister Andrea, and Grandma Nall. Sent with tons of love and hugs from Gary and Dawn Niehaus!

ReRe Lunsford gave a $25 donation to support Misti Hair

I love you misti!!! You are an inspiration! Such an amazing woman, mama and friend!

Christi Merritt gave a $20 donation to support Traci Brown

Dedication In Honor of: Traci Brown and her little munchkin

An anonymous donation of $100 has been made

DiEtte Henderson gave a $50 donation to support Tammy Bailey

For warrior Cari and her family with love. XO

Kathleen Reynolds gave a $10 donation to support Breanna Nichols

I personally know of three people with Chiari and pray that more research will benefit those like Breanna (who is an amazing lady btw).

Robin E Woods gave a $36 donation to support Sandi Zellner

Why $36, Sandi? It signifies "chai," (times two). That stands for life. It's my pleasure to donate and know you. Robin