Your Email Marketing Campaign: Smart Automation can Help
You may have some success with your email marketing campaign when using a tool such as Mailchimp or Constant Contact. These are two tools that are geared specifically towards email marketing and create a lot of great opportunities for your nonprofit. Unfortunately, even with the strength of Mailchimp or Constant Contact, you are not able to connect your email marketing system with the volunteer management system, the wealth screening system, the reconciliation system, the website and web hosting system or the CRM database that you are using by only using these platforms by themselves.
The result is that your email marketing campaigns cannot be as strong as they need to be, because they are not connected to the other systems that it will need to get it the proper donor, volunteer or any other type of information that you will need. This means that you will have to log out of your email marketing system, then log into an entirely different system, eventually leave that one, and then move forward with creating reports and other needed information in another system. Worst of all, your marketing campaign may not accomplish all that it needs to because it is not connected to information that it needs.
Giveffect can help your nonprofit organization with all of its email marketing and direct mail efforts. And with Smart Automation, you get the piece of mind in knowing that the email marketing and direct mail software systems are fully connected to all of our other systems, including the website and web hosting, contact and relationship management, and volunteer management systems. Whatever you see happening with your email system on the users' end will be automatically updated in the administrative end of the fully connected system.
With Mailchimp alone, you can reach hundreds, and maybe thousands, of supporters via email. But with the power of Giveffect, you get the added bonus of integrating an all-in-one, integrated software system that has a fully integrated suite of marketing tools with your Mailchimp account. With Mailchimp being the most sought after email marketing platform that allows businesses and nonprofits send better emails, your nonprofit can sync their contact lists, removing the need to export lists out of Giveffect and into Mailchimp. If you do not happen to use Mailchimp, you can also create a SparkPost account and integrate that with your newly-formed Giveffect software. By doing so, you are allowed 15,000 free emails per month as a Giveffect user.
With your email marketing system fully integrated with Giveffect, you are now ready to bring more of your email marketing campaign and newsletter ideas to life. And again, due to Smart Automation, you can do more in the vein of email marketing than you would if you did not have access to Giveffect. And you can do it more easily. For example, our Template editor features drag and drop technology that gives you access to full text and image formatting, custom template structure, and other features. Once your newsletter is created, the information about the newsletter and the campaign is automatically updated in the backend of Giveffect, and this is due to Smart Automation. Our system allows you to not only create the email marketing campaign and/or newsletter, but it also allows you to pull pertinent information about them once they are completed in the form of our reporting & querying tools.
Giveffect also helps you to keep all of the email campaign newsletters you have created in order in the back end so that you know which ones you need to pull information on. All in all, Smart Automation and Giveffect help you to make your email marketing campaign or newsletter more effective because we allow you interpret data through email campaign analytics and pull email campaign information through our reporting features. This way, your future newsletters and campaign material can grow even more impactful and wider reaching. Below is an example of the drag and drop software that we have as part of our system that will allow you to easily create an email newsletter and get it sent off to your wide pool of supporters.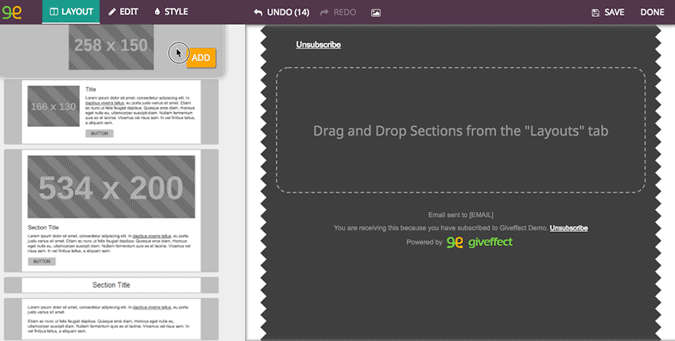 And for our clients, the best part of what the Giveffect software does for an email marketing campaign and a email newsletter is that all everything that is done on the front end of Giveffect is automatically generated and update in the back end because of Smart Automation, our signature tool that empowers everything that happens in Giveffect. Other email marketing platforms have many tools that are dedicated and focused on creating email newsletters that will give donors more incentive to participate and donate. But, those platforms can only take a campaign so far if they are not connected to other software systems that have vital information that the campaign needs to resonate with donors the most. This is what Giveffect offers: an email marketing system that can be easily integrated with your existing Mailchimp or SparkPost account, but also automatically updates the information you create for your email campaign so that you don't have to.
Through the power of Smart Automation and with our suite of email marketing tools within a system that is seamlessly connected to ten other systems, your email marketing system is primed to be one of your most impactful tools in a software system that is unrivaled in its convenience and seamlessness and gives you a 360-degree view of what your software is doing, when it is doing it.
Want to learn more about how Giveffect and Smart Automation can help your nonprofit organization to strengthen its email marketing? Schedule a demo with us today by visiting us online at giveffect.com.