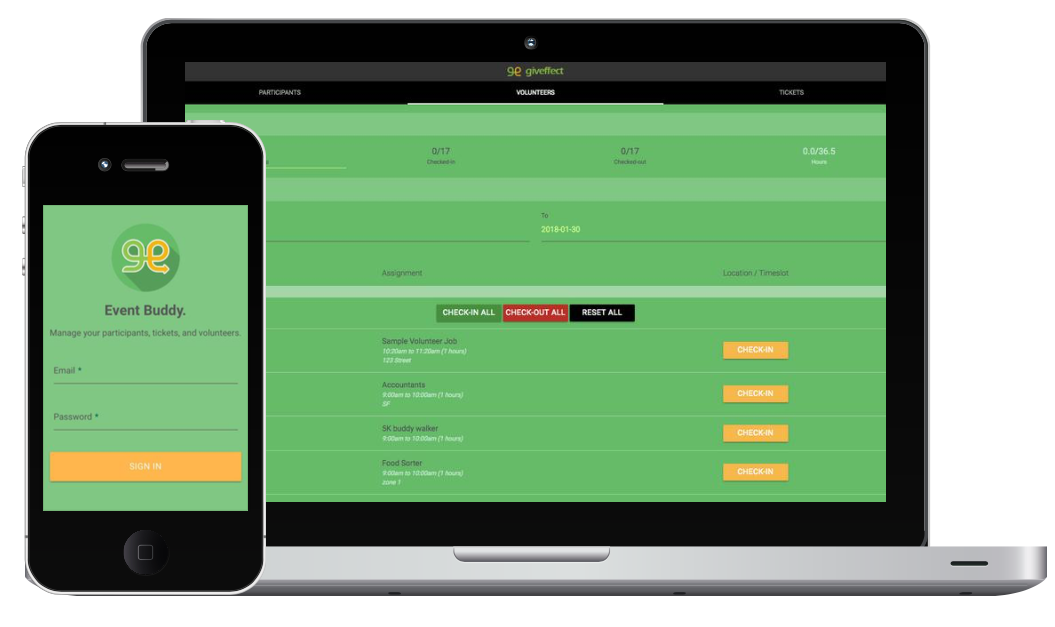 EventBuddy: A Mobile Companion To Help Manage Your Nonprofit Events
All nonprofit organizations need various tools to function and succeed. And these days, these tools include websites, apps, and devices that are integrated, automated and make a life for a nonprofit and its employees as easy as possible. When employees at nonprofits have access to these tools, they are able to work more efficiently with their donors, volunteers, and other supporters, and can help them to do things such as validating event tickets, process credit cards and access payments from anywhere.
Event Buddy, created and powered by Giveffect, is one such tool. The app is designed as a Constituent Management, Events Management, and Volunteer/Participant check-in/check-out tool. Able to be downloaded for the App Store and Google Play store, EventBuddy can scan event tickets, check-in/check-out your volunteers or fundraising participants.
Some of EventBuddy's key features include:
-Adding constituents to your database
-Scan driver's license data via 2D barcode using your phone's camera
-Search constituent database by name or nearby location via GPS coordinates.
-Validate Event tickets manually by ticket number, or automatically by scanning ticket QR codes using a device camera
-Process credit cards for registration for event payments by swiping the card, or scanning the card using your camera.
Let's say, for example, that your organization has created a charity museum luncheon that requires the attendees to present a physical or digital ticket, that has a live auction component connected to it, and where several volunteers will be needed to help with directing attendees. Event Buddy can assist with every aspect of this event. Download Event Buddy onto a smartphone and you can immediately start scanning event tickets. You can also immediately check in and check out your volunteers. You can also immediately start accepting payments for auction items from anywhere by processing credit cards right on your mobile device.
Giveffect is built for nonprofits. Which means that Event Buddy is built for nonprofits, as well. With this handy tool, nonprofits are empowered to do much more, and in a shorter amount of time. Not only that, Event Buddy's compatibility with Driver's Licenses and state identification cards with magnetic stripes or barcodes for quick data extraction means that the information can be more easily and directly connected to a nonprofit's constituent database.
Event Buddy makes your nonprofit's events easier to execute by putting more power in your hands to track volunteers, accept credit card payments and scan ticket information. And the ease and convenience of Event Buddy are right at your fingertips.
Want to learn more about how the Giveffect all-in-one software system can help your nonprofit fundraising efforts? Visit us online at www.giveffect.com.